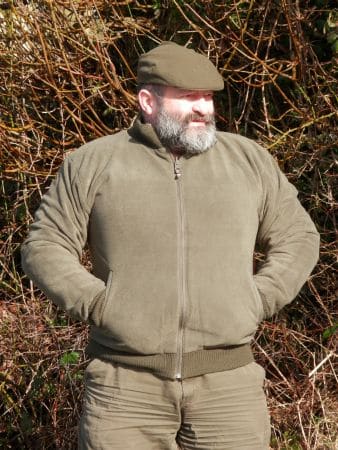 Review
By John Fenna
The Jack Pyke Countryman Jumper may be made up of mainly synthetic materials, and as such may not stand up well to sparks from the camp fire, but in nearly every other respect, has proved to be a practical, functional and versatile mid-to-outer layer garment comfortable to wear in the woods and hills.
The Countryman Jumper is fully reversible with a 30% wool70% Acrylic rib knit side and a 100% polyester non-pill fleece side with a "Breatha-Tex" wind and waterproof membrane sandwiched between them. The jumper has knitted collar, cuffs and hem, a full-length front zip and twin zipped hand pockets on each side. The pockets on the side worn "inside" making them slightly awkward to access, but still usable, "security" pockets, while the front zip puller, when worn fleece side out, is on the wrong or "American" side.
Worn fleece side out, the jumper has a more "modern" look with contrast collar, cuffs and hem, while, when worn knitted side out it has a "classic" outdoor look with suede effect elbow and shoulder patches and pocket trim.
In use the jumper is very warm indeed and in the miserable January/February 2014 weather I found I only needed a T-shirt under it.
While the body of the jumper is wind and water proof, I did experience some water penetration at the knitted collar, hem and cuffs. The fleece appeared to dry faster than the knitted fabrics, but I did not notice any condensation at all.
The sizing is not over generous, but even with a snug fit I did not find the jumper restricted movement.
Coming in green only, the Jack Pyke Countryman Jumper is well up to the performance and quality of construction you expect from this company, and not only performs well in the woods, but has a great look as well.
Coming in sizes S-XXXL, the Jack Pyke Countryman Jumper costs around £55.95 and is a very warm mid-layer garment that can shrug off wind and showers, though I would want an outer garment over it in wetter conditions.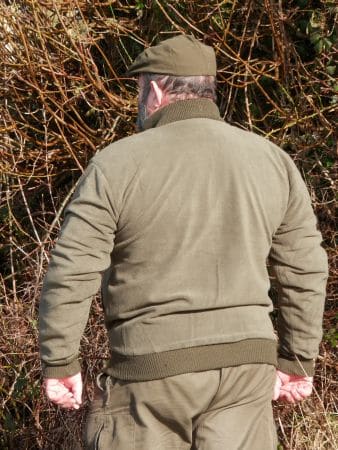 For more information visit
www.jackpyke.co.uk