Review
Helle Temagami Bushcraft/Survival Knife
By John Fenna
The Helle Temagami Knife, designed by Les Stroud of "Survivorman" fame, is available in 2 versions – laminated stainless steel (HEL 300) and laminated carbon steel (HEL 302) and is a "traditional" looking knife in the Norwegian style.
the softer steel on the outside of the blade protecting the harder core from stress and corrosion etc.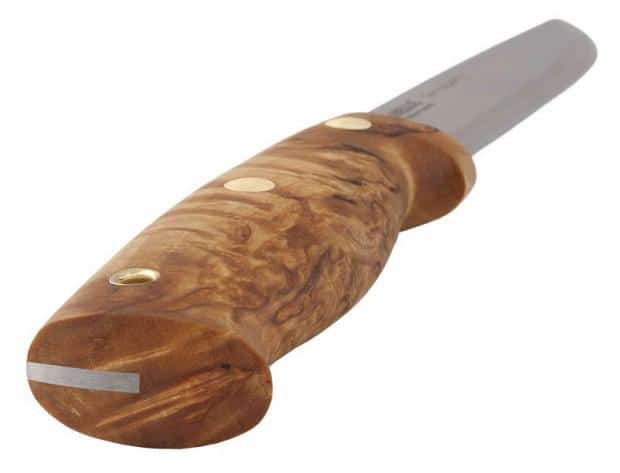 Named "Temagami" by Les Stroud after the region of Canada, part of the Canadian Shield, once home to "Grey Owl" and with extensive wilderness to play in, this knife has been designed for hard use by a true "survival" enthusiast.
I have been trying out the carbon steel version of the Temagami and have been well impressed with its performance over a wide range of tasks from heavy batoning (horizontal, vertical and point) on hard and soft woods, both green and seasoned, through fine carving to food preparation.
The blade of the Temagami is approx 22cm (4.25") long x 2.5cm (widest point) and 3mm thick, satin finished, laminated carbon steel with a very short ricasso and a Scandi grind with a fine secondary bevel. On the back of the blade, about halfway down the spine, there are grips for the forefinger when using a choked grip for tasks such as skinning game and carving. The grips were originally intended to also work as a striker for a firesteel, but more of this later.
The tang of the Temagami is full length, is exposed along the spine of the glorious curly birch handle and is fixed to the wood with 2 brass pins or rivets and a brass lanyard tube at the butt end. The handle is some 11.5cm (4.5").
The wood is shaped to give a deep belly and a partial guard and finished to a smooth, but not over-polished, touch with a linseed oil treatment that gives a slip-resistant grip.
The knife came scarily sharp and after days of heavy use was still popping hair off my arm with ease, and with no sign of chipping on the edge despite having been used to baton through seasoned hardwoods – something I rarely do with a knife as I see this as the province of saw or axe work. However … this knife was designed as a survival knife so I tested it as such!
For more "bushcrafty" tasks from cutting feathersticks through fine carving (yet another "wood spirit"), to chopping carrots, the knife proved excellent, comfortable to use in a variety of holds/grips with enough control and strength for fine and brute strength cuts. It cut rope easily and crunchy carrots without pinging them off the cutting board.
I personally find the handle a bit large in the hand – but a personal fit would be easy to achieve with a bit of time with files and sandpaper – and the "fit and finish" is not as perfect as it might be. There is a noticeable recessing of the tang into the curly birch wood handle and the edge of the finger guard shaping is a little square for comfort, while the brass pins have some minor "gapping" around them and are very "scratched" in appearance.
None of these points really detract from the use of the knife and are very minor niggles indeed!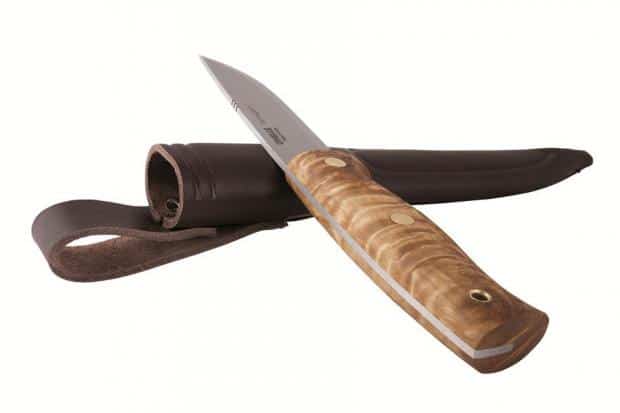 As a real "user" of a knife, the Temagami is pretty well faultless … except that I could not get a single usable spark off a firesteel with it! The spine of the blade is just not square enough to act as a striker (or for that matter an efficient scraper for other tasks) which was surprising and a little disappointing for a knife designed by a "survival expert". I did however get sparks from the steel when using flint. Squaring the spine or (as I found out) roughing it up with flint striking, improves the fire steel sparking immensely.
The 2-2.5mm thick leather sheath is of simple and classic design incorporating a plastic safety liner and a riveted belt loop. The brown leather has a simple embossed design and a plain finish. The knife fits snugly into the sheath with an ambidextrous friction fit and is therefore easily usable by left or right handers.
The Temagami is a tough and versatile knife, individually hand-crafted for quality and durability by Helle – who believe in craftsmanship, not mass production – and designed by someone who knows what they want from a knife.
A really practical "user", the Temagami is not over-finished to be a draw queen, nor is it "tacticool" – it is simply a good looking, working tool of a practical design, using traditional materials and a steel that holds a great edge, is pretty straight forward to sharpen and … works! I really like this knife a lot.
The Temagami has an 11cm blade, is 22cm overall, weighs approx 160g, has a balance point approx 2.5cm behind the blade and costs around £139.95 with a lifetime warranty on materials and manufacture.
For more information contact Whitby & Co, www.whitbyandco.co.uk