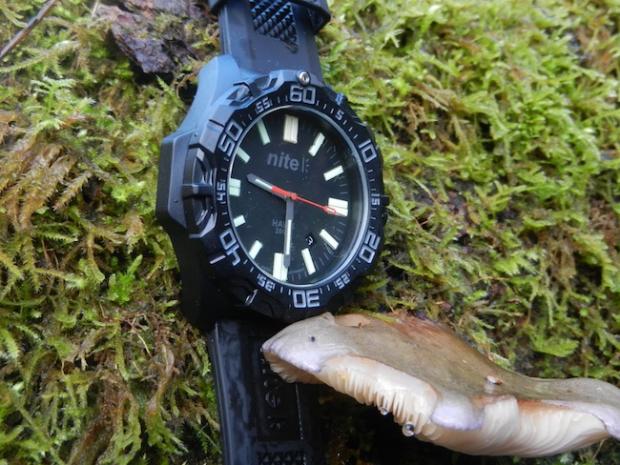 Review
'Hawk' from Nite Watches
First Impressions
I got the Hawk from Nite watches a couple of months ago and got it on my wrist straight away, first impressions were good, big, tough and very easy to see the time no matter what time of night or day.
Review
Considering it's a watch, the Hawk from Nite arrived in a fairly large black box, it turns out that it needs a large black box to hold the large leather looking, curvy styled, presentation box that it comes in, when you unclip the press stud fastening and open the lid you find the Hawk wrapped around a firm little cushion, all in all it's a quality approach, although I do tend to think that wrapping this timepiece around a little cushion just doesn't have the same impact as wrapping it around a piece of granite or steel pipe when it comes to emphasising it's a tough bit of kit.
Anyway, enough of the sidetrack into soft furnishings. The Hawk was slightly bigger than I'd expected being 53mm across including the crown and about the same top to bottom going from lug to lug.I'm used to large watches so this wasn't a problem at all although it might have been if it weighed as much as you think it should, obviously one is going to know the weight of this watch prior to buying one, generally people don't lay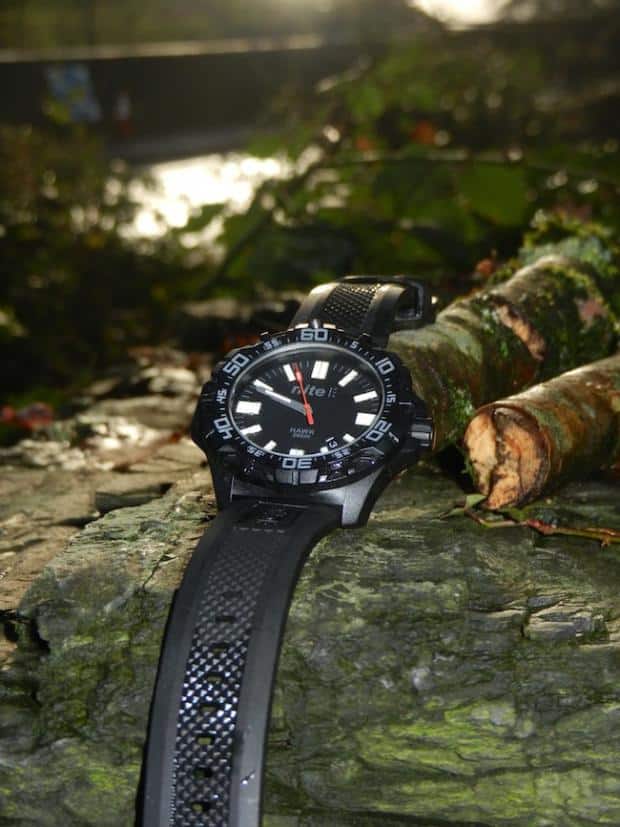 out a good sized wad of cash on a watch without looking into what they're getting but the reality when you have it in your hand is even better, the 64gms that Nite quote is spot on and it makes for a very easy to wear
watch.
They've managed to keep the weight down and keep the watch hard wearing by using Carbon fibre reinforced polycarbonate for the watch case and silicon rubber for the strap. To be honest I thought i'd have damaged the case by now but it's stood up very well to the rigours of daily life and adventuring in the woods and in the water as well as the usual building work, car mechanics, logging and the like. I was a little surprised that the watch comes with the K1 mineral glass rather than sapphire glass but it seems to be wearing well with no marks or blemishes of any kind and on reflection this watch is not high up in their price range (although far from cheap) so my expectations shouldn't be too high, the watch face is always easy to see even in the sun so I'd vouch for the triple anti glare coating that goes on the underside of the glass, it's seems to do it's job with aplomb, even when there is a reflection on the glass you can still see through it so you can't ask for much more than that.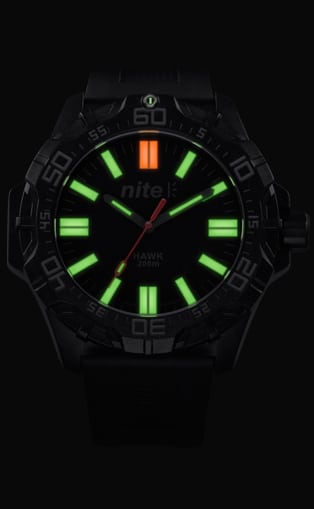 I think that one of the main reasons that you buy a watch like this is for the GTLS (gaseous tritium light source) technology that gives you full on 24/7 illumination, there's no dimming after a few hours away from a light source such as you find with Super-Luminova or other phosphorescent luminescent paint – which initially glows brighter but tapers off, progressively becoming less luminous (bright) over several hours – there's no pushing buttons to activate a backlight or some other form of illumination, with this type of watch you just look at it and you're done, it's fast, easy and always on.For some this might be a novelty while for others a necessity, I personally think it's a great system.
The polycarbonate case and steel back is all black and sits well on the wrist, I thought because of it's size the crown might dig into the back of my hand a bit but that's not been the case, it does push against my hand now and then but it's not uncomfortable due to the roundness of the crown which seems well designed, I also tend to wear my watches slightly lose so there's some slack that helps keep things comfortable. I think my biggest design reservation when I first started using the Hawk was the inside edge of the lugs, it created what seems a sharp edge if you scrape across it from the strap, I was waiting for the time that I scratched myself or someone else, particularly one of my kids when we're roughing about, it's not happened though and I'm becoming confident that it's not going to.
The bezel is very tactile with defined 'click' positions through all 60 minutes, it's illuminated in the '60' position so you can always see where your finish point is for timing etc. At the moment there's no wear on the bezel, I'll be writing an update in about a year to report on the long term affects of wear and tear, although I suspect that it's going to stand up very well.
The strap started off as a bit of a mixed bag for me, it's solid, comfortable and secure, it may just be the size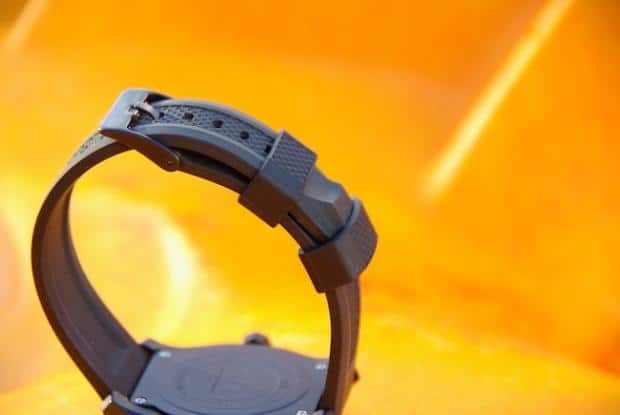 of my wrist but the access strap is retained by a couple of silicon loops just like any other watch, I use one of them to keep the strap from flapping and the other to keep the end of the strap from sticking out, it's also got a thicker end than the main part of the strap, it flares up about 3mm, this does help the strap to stay secure as it can't slide past the strap band so from that perspective it's a great addition to the strap, the downside is that it can be a bit of a fiddle to undo the strap and i've gradually become more firm with it than careful, as now I tend to just yank the strap free when I need to get the watch off, I think the strap itself is sturdy and can take the extra tug so I'm not overly concerned about causing any damage.
I love that the watch stays so clean, most watches I've used in the past have had little areas that cake up with grime and they need a methodical cleaning now and then, so far he Hawk seems self cleaning, even when it's been caked in mud, dirt, sawdust and sand a quick swill in some water and it's as good as new, I think this is a mixture of good design and use of materials.
Pros
Always very easy to read
Great weight
Tough
Easy to clean
Cons
Not really a con but – Tritium lighting can be quite bright at night when you or someone else is trying to sleep
Conclusion 
I know it's personal taste when it comes to watches but I have to say that I think this is a great watch, I think it's a lot of money at £275 so buying one needs to be a considered decision, for those that do decide to get one I think they're going to enjoy a great watch that will give many years of service. Don't get me wrong I don't think this is expensive compared to other watches of it's ilk, if anything I think it's well priced and should be high on anyones list that's interested in a watch of this type.
The Hawk is as wearable in a business meeting as it is friction firelighting or filleting a fish, there really is nothing negative to say about it so hats off to Nite for producing a tough, bright and very usable watch.
Rating
Ratings are out of 5, 1 being bad and 5 being the best
Fit for Purpose– 5/5
Versatility – 4/5
Durability – 5/5
Value for money – 4/5
Overall – 4.5/5
Manufacturers Description & Specification
Weighing in at a staggering super light weight 64 grams, the Nite Hawk's carbon fibre polycarbonate case and rotating bezel are still hard enough to stand up to the toughest of activities – whilst the silicon strap provides extra comfort and support for wearers. The Nite Hawk is water resistant to 20 ATM and is fitted with the highly scratch resistant K1 mineral glass and triple anti reflective coating ensuring excellent visibility at all times as well as maximum durability.
An integral part of all Nite watches is the GTLS (gaseous tritium light source) technology which offers exceptional clarity in all lighting conditions. The Nite Hawk takes this feature to another level with 16 large rectangular light sources on the dial and a round GTLS to each of the three hands, providing unparalleled brightness and reliability unlike any other watch in the current market. This exceptional quality illumination is completely self powered and will remain highly visible night or day.
Case Finish – Carbon fibre reinforced polycarbonate
Case diameter – 51mm
Dial diameter – 33mm
Case depth – 13mm
Band type – Silicon rubber
Weight – 64g
Crystal – K1 mineral with triple anti reflective coating
Crown type – Push with triple O-ring
GTLS – Hands, dial and bezel
MBS – No
Movement – Swiss Ronda 505
Water resistance – 200m
Battery life – 45 months
Cost – £274.95
Nite sell directly to customers
http://www.nitewatches.co.uk/shop/hawk
[