Review
By John Fenna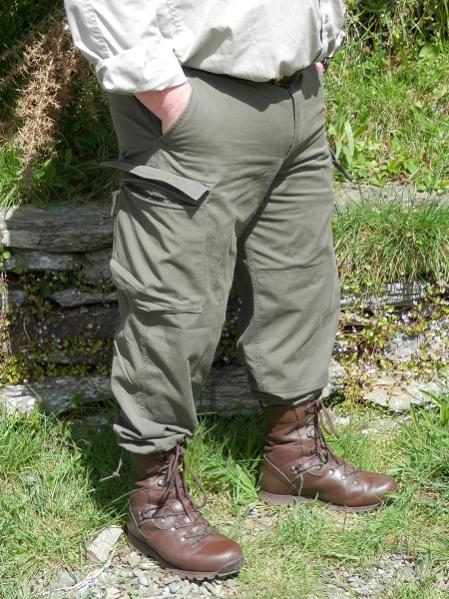 OK, a couple of things I should say at the start of this review:
1. I have no connection with Endicotts Army Surplus,other than buying a couple of bits and bobs there over the years;
2. I normally only review brand new commercial kit, not army surplus gear.
For this review I am changing this! When Kev Endicott asked me if I had tried the TAR-S I was intrigued. When he offered to send me a pair for review, I was not sure they would be my "thing". When I tried them I was convinced!
The TAR-S are made from a 67/33 polyester cotton mix with a rip stop weave that is tight enough to be pretty windproof and, although they feel fairly light, both to pack and to wear, are tough and durable and solidly built. The poly/cotton fabric has a lightly "peached" finish which makes them very comfortable against the skin, quiet to wear and with a pleasant "drape" or "hand". The TAR-S come in a pleasant "Austrian Dark Olive" that is – and it sounds strange to say this – not overly "military" in appearance and does not look out of place in the local high street – never mind the woods!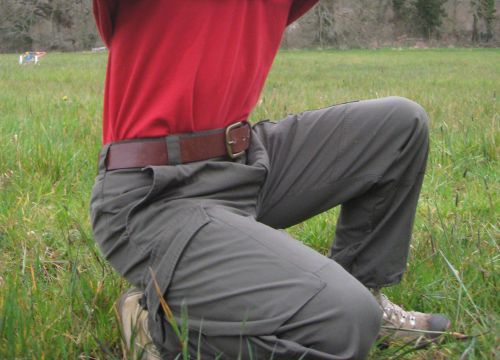 The TAR-S have all the features I really want in a pair of trousers, without too many gimmicks and are built for use not looks – but end up looking good too!
The waistband has six .75" wide belt loops that will take a belt up to 1.5" (38mm) wide, fittings for "loop through" braces inside and closes with a single button. Unlike so many military trousers that have a button fly, the TAR-s have branded YKK zip fly front for "convenience". As I am no lover of button flies I really appreciate this.
The knees of the TAR-S are double thickness but the seat has neither reinforcing nor back pockets, the pockets provided being two good, deep, front slash pockets with open tops, and two semi-bellows thigh pockets.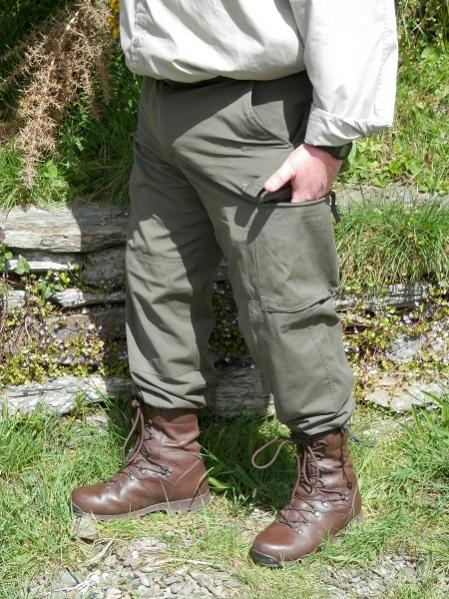 These thigh pockets measure approx 8.5" deep x 8" wide with a 2" bellows at the base and rear side giving excellent capacity without excess "bulge and flap". These pockets have an unsecured flap cover over a 7" branded YKK zip closure complete with a padded zip pull extender. Inside both thigh pockets there is a secondary pocket, approx 6" x 4" with a Velcro tab closure, ideal for securing smaller items.
At the hems of each leg there is a useful elasticated draw cord with a locking toggle adjuster for blousing your trousers to your boots to seal out creepy crawlies with ease.
Now, with my bulging waistline and short legs I have a problem with getting trousers to fit "off the shelf" and normally have to hack up to 6" off the legs to get something I am happy with. No problem with the TAR-S though, Kev was able to send a pair that fitted me fine, 28" inside leg and 39" waist (military sizes are not generous – I normally take a 36" waist in commercial makes, 38" tops! Honest!)
As usual with Endicotts, the service was second to none with the TAR-S arriving the morning after I gave Kev my sizes.
Since the TAR-S arrived I have hardly worn anything else – around town, at church and in the woods – all without looking out of place, and all in comfort. I have run, jumped, climbed, cooked and sat around, carved, sewn, chopped, pushed through dense undergrowth and the TAR-S have been comfortable throughout and show no sign of distress. The TAR-S are easy to wash and dry quite quickly and can be tumble dried, but don't really need ironing! If I had to compare them to any other trousers I have worn, I would say that they compare well with some foxy old Scandinavian trousers I used to rate highly.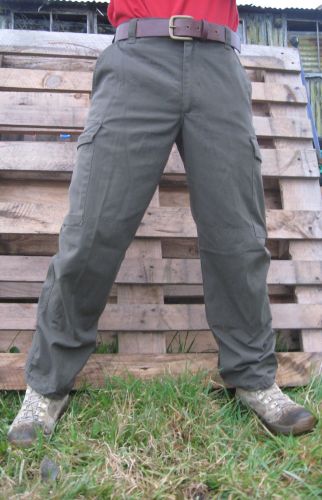 Although the TAR-S are only available in one colour, "Austrian Dark Olive", a greyish green that Endicotts are calling "Olive Grey-een" (pronounced "grain") they are available in a wide range of sizes and qualities: waist 32"-42", leg 26"-32" and in Grade 2 at £5.95, Grade 1 at £9.95 and Grade 1+ at £12.95 plus,. If you buy Grade 1+, Kev will give you a limited lifetime guarantee on the trousers – not bad for army surplus!
Tough, durable, non-restrictive, not baggy, well featured and thoroughly practical the TAR-s are close to my ideal bush trousers, and the prices are very affordable!
I am so taken by the performance of the TAR-S and Endicotts' service that I am going to invest in a couple more pairs!
For more information (a lot more) plus humour, visit Endicotts website www.endicotts.co.uk of phone them on 01392 433331 or drop into the shop in Exeter.