Review – Casstrom/RB Full tang scandi blade blank
by John Fenna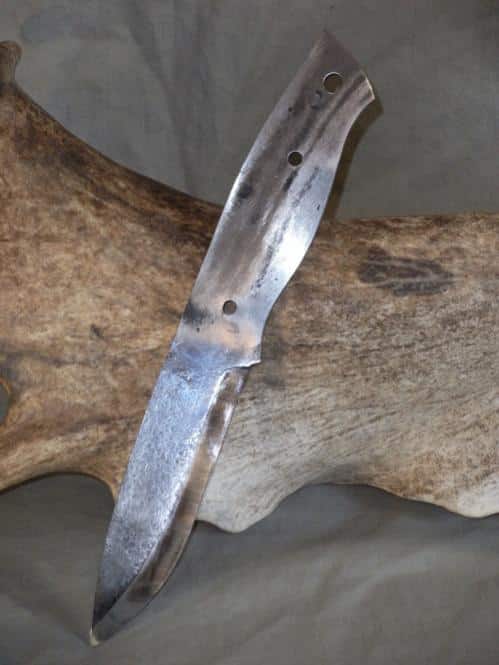 New to the range of knife-making "blades and bits" that Casstrom distribute and sell is the "Casstrom Hand Forged Full Tang Blade by RB".
This flat "Scandi" ground blade is made in Swedish Lapland by Gunnar Bergstrom, who is well thought of in his native Sweden, and it has been specifically designed by Casstrom to be the ideal blade for bushcrafting needs.
The blades, forged and hammered entirely by hand and stamped with the smith's "RB" mark at the Kourbevare Forge, are made from 2.7-3cm wide and 3.5mm thick 1770 Undeholm steel, are approx 23.5cm long with an 11cm blade with a flat Scandi grind, a lightly tapered tip and a drop point. There are two rivet/pin holes and a lanyard hole in the handle. The steel is hardened to approx HRC60 and the blade is only lightly polished, leaving the "forge finish" to give the blade real character.
Using olive wood (from a charity shop cheese board), black liners (from FGYT on this site – thanks, mate!) and brass pins and tube I had around, I carefully put a handle on the blade and made a "double-dangler" style sheath from leather I acquired in a trade with another site member, and a brass D-ring from my local saddlers.
The construction of the knife was as straightforward as with any comparable full-tang blade and I finished the blade with a vinegar "patination" that really brought out the texture and character of the finish. A quick stropping of the blade and testing commenced.
And what a joy that was!
The blade took and held a superb edge and was reasonably easy to re-hone when dulled, using my normal kit of an Aldi diamond block and wet-and-dry paper on foam mats, finished with a leather strop.
Feather stick manufacture was straightforward – to the extent that I even feathered up the stick of a kitchen match.
Heavier work was just as easily performed and even food preparation was simple (though carrots did "ping" away a little – but not off the chopping board!)
If a bushcraft knife is meant to be an all-rounder, then this blade succeeds in its design intentions.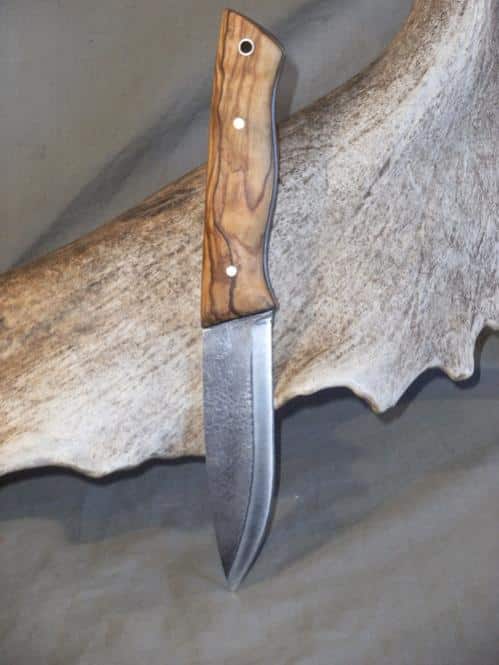 It is big and tough enough for the heavier jobs of splitting wood, battoning etc; small enough for finer work of carving, food preparation etc; comfortably shaped and well-proportioned as well as being made to a high standard. The grinds are evenly made, the back well squared (and sending showers of sparks off a "firesteel" (even sparking fairly well off flint), and the whole blade flat and "clean".
I have thoroughly enjoyed both building this knife and testing it. As I have been able to select and shape the handle materials to fit my aesthetic wants and physical shape preference, I am well pleased with the look, feel and, above all performance of this knife, and can recommend this attractive blade to any hobby knife maker.
The Casstrom/RB Full Tang Scandi Ground blade costs around £40 and will please many knife-makers and users.
It looks like I have a new favourite user to play with!
For more information visit www.casstrom.co.uk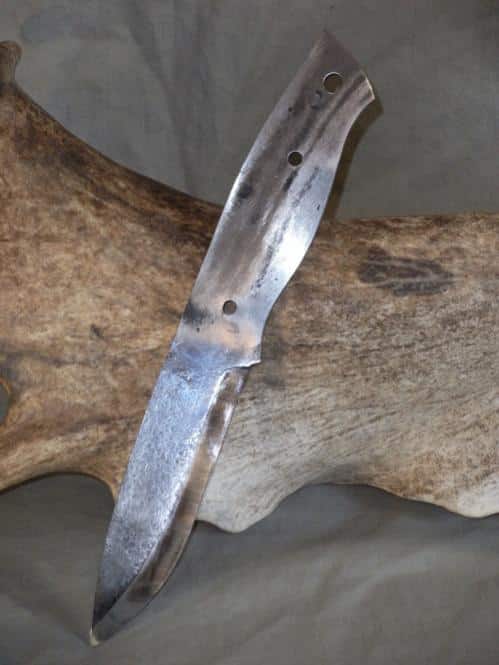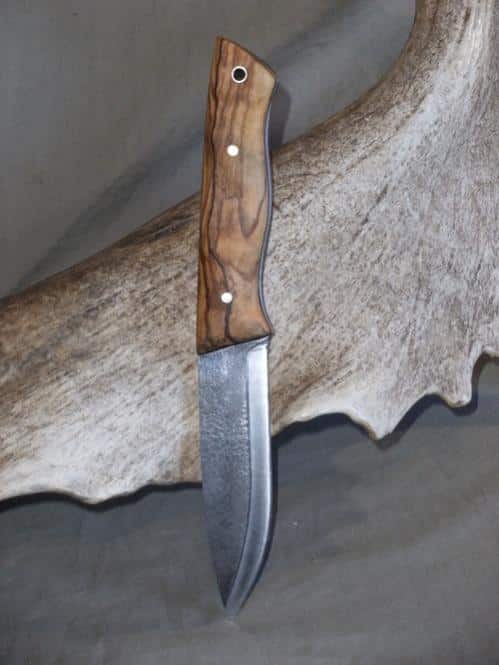 Knife blank                                                       Full tang knife