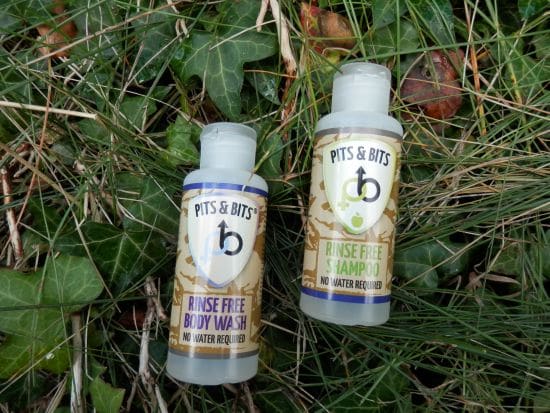 Review
By John Fenna
When I attend the BCUK Moot I camp well away from both the water points and the shower block and so have relied mainly on baby wipes for getting clean.
In future I may well rely more on the "Pits and Bits" Rinse Free Body Wash and Rinse Free Shampoo as they have proved very effective at getting grease, soot, sweat etc off my body and out of my hair (including beard!) without the need for any water, and with perfect ease and all without leaving the shelter of my tarp!
Pits and Bits Rinse Free Body Wash comes in 65ml bottles, which is just enough for a full body wash in my experience, and is simple to use. Just apply the liquid fairly generously and massage it into the skin, then towel off, or wipe down with tissues to remove any residue.
There are no parabenes or alcohol in the bodywash, your skin is left feeling good, refreshed and clean, while moisturising as it goes, and leaving you smelling sweet too!
The Pits and Bits Rinse Free Shampoo is just as simple to use and is equally effective. Apply the liquid to the scalp/hair, rub in, towel off and you are clean haired and smelling good.
Effective, convenience and made in the UK, the Pits and Bits Rinse Free Body Wash, and Rinse Free Shampoo come in 65ml squeezy dispenser bottles at around £2.36 each and make hygiene away from easy access to water simple and straight forward.
For more details contact Casstrom Ltd, PO Box 4160, Maidenhead, SL60, 1DR.
Tel 01628 330330
www.casstrom.co.uk