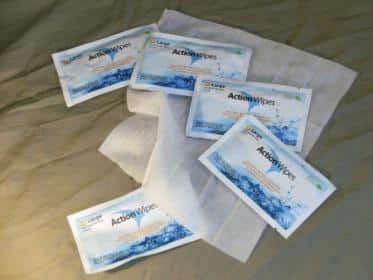 Review
By John Fenna
Whether you cannot face the idea of getting up at the crack of dawn at the Moot to get to the shower before all the hot water has gone, or just that you want to clean up where there is no shower before returning to so-called "civilisation", the Action Wipes may be just what you need.
Action Wipes are full-body wet wipes (size 9" x 10") big enough and tough enough to cope with providing a decent wash to a rather "wood-stained and smoke preserved" bushcrafter without falling apart (or giving up in the face of an unequal battle) during the process.
Each sealed pack contains a cloth 9" x 10" which contains a wet cleansing formula made up of natural ingredients and no harsh chemicals, artificial fragrances, detergents or alcohol.
The ingredients do include water, a preservative derived from Rowan berries, a coconut oil derived emollient surfactant and preservative, a sugarcane derived surfactant, Frankincense oil, Eucalyptus oil, Teatree oil and Ylang Ylang oil.
Despite the pack only weighing approx 25gm or so (my scales are not so sensitive as to be more exact), the Action Wipes were plenty big enough to get my grubby body clean and smelling sweetly of more than woodsmoke and "past activity". The cloth itself is tough enough to be saved, washed and re-used for other purposes, while the natural anti-bacterial and anti-microbal properties of some of the ingredients make the wipes very useful for treating scratches from insect bites, and grazes.
Although made in the USA, the Action Wipes are now available in the UK from DMP (www.dmp.uk.com) in packs of 5 (£4.99), 15 (15.99), or 25 (£23.99) as well as from some specialist sports shops.
As they say – "your face is not a baby's butt; don't wipe it like one"! Baby wipes are really put in the shade by these more useful, better cleaning, more eco-friendly, full body "Action Wipes".