Finally! A night out...
Got dropped off by my son a couple of miles walk from my chosen spot for what was my first overnighter in a long while.
Got to the old estate lake spot by 13.00 and was greeted by the bark of a clearly agitated Chinese water deer, a quick video as he retreated but I did apologise for taking prime position for the night!
The weather looked tripe initially...40mph+ gusts and heavy rain due from 15-18.00 but I had the basha up by 14.00 and enough bushbox fuel to last all evening and breakfast duties....just before the rain started.
A trio of Swans added early evening entertainments, not sure what they need to argue over but the do make a drama of it, good fun.
Widgeon and Teal in numbers as dusk fell then onto bush tv via the bushbox, amazes me how even a small stove fire can warm a personal space and be so attention grabbing, I'll never tire of feeding a stove....
The wind slowed, the rain stopped and cloud cleared to leave a beautiful clear night sky.
I'd prepped some chunks of oak from a skeletal limb that I could reach, allowing these to burn down and leave a good depth hot coals is key to grilling on the bushbox.
Lamb chops and mushrooms on my homemade bushbox grill went down a treat, a lovely ratpack orange hot chocolate and into the bivi by 8pm.
I literally slept like a log until 6.30am with only a few turns and a pee at around 4am
Thinking ahead and preparing plenty of fuel allowed me a luxurious coffee and breakfast porridge while still in the bivi, albeit sat up against the huge Yew tree that formed part of my shelter design, breakfast from the bivi and watching the lakes inhabitants start their day...magic.
The only picture I took was a morning greeting selfie to the missus! Sorry!!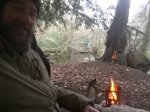 A couple of gripes: the sawyer mini bags are rubbish, mine has split at the neck leading to possible contamination of filtered water if your not careful.
And condensation in my bivi was quite bad this morning, most likely as I did hunker right down at one point, soon dried off my synthetic sleeping bag but a down one would be a mess.
All told a great night out, didn't see another soul until missus collected me at midday.
Got some hammocking to do soon, all new to me....
Last edited: