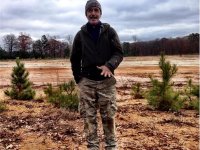 Lead Instructor
:- Fernando Moreira's
Date
:-( I'm awaiting on hard dates for the course and will update once I know , currently looking to be End of May. )
Costings
:- Circa £100 for 40 hours instructions - However I have been advised this figure will go down if more people attend.
Location
:- Dartmoor National Park - Okehampton area.
SAR and Man Tracking Instructor Fernando Moreira's is coming to the UK in early 2021 to teach a 40 hour SAR Tracking Course in the Okehampton area of Devon.
SAR Classes | Fernando Moreira's Professional Tracking Services (professionaltrackers.com)
About | Fernando Moreira's Tactical Tracking School
Search and Rescue Tracking w/ FERNANDO MOREIRA - SAR Tracking - YouTube
Currently there is no upper limit to the amount of attendants allowed.
If anyone is interested in attending , leave a message here ( on the thread ) and I will pass on the organisers email address to those interested parties.
There are conventional Camping grounds within the local area and there is of course wild camping options within the Dartmoor national park.
( Caveat - I have no professional paid association with the Instructor or Organsisers just wish to help advertise what would appear to be a very reasonably priced course. )
Last edited: