Apr 16, 2003
23,099
1
1,181
51
A callout for Theresa's new website. As many of you know Theresa comes to the BushMoot every year and shares her immense talents with us, she's amazing. She's gone live with a new website.please take the time to have a look at her courses and other info on the site.
Good luck with it Theresa!
www.theresaemmerich.com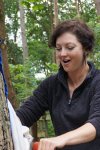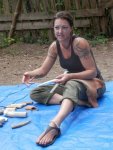 With a PhD in experimental archaeology and over 25 years of experience in prehistoric skin tanning and clothing construction, Theresa is an internationally recognised traditional living skills specialist.
With expertise in organic material culture studies, replication, implementation and presentations, Theresa is both academically and commercially a leading global expert in:
Analysis of prehistoric and early historic leather artefacts
Determination of tannage technology
Construction sequence and object biographies based on macro and microscopic visual and behavioural characteristics
Species identification based on leather and hair characteristics (secondary expertise)
The website contains:
Details of private courses run by Theresa, including traditional tanning, whole animal processing, and a variety of prehistoric skills
Information on leather artefact analysis
Public presentations for both private and educational groups and open air museums
Custom leather and fur clothing commissions
Theresa is available for lectures, leather artefact analysis, museum presentations and exhibit consultations, alongside documentary appearances and private courses - globally.
She produces strict replicas of archaeological and ethnographic artefacts for museum exhibitions as well as custom clothing using only traditionally tanned skins and time period appropriate stitching materials.
Theresa is also the author of 'Determining Prehistoric Skin Processing Technologies: the macro and microscopic characteristics of experimental samples' available from Sidestone Press. She has appeared as a traditional living skills and clothing specialist in numerous documentaries for Channel 4, Arte, Galileo, Al Jazeera, SVT Sweden and NDR Fernsehen.