I'm selling these 2 knives as a Pair, The 1st is 1 of the Cheapo Survival Knives with the Hard Plastic Handle and Sheath with the Sharpening Stone on the back of it. and it's 2 Pouches But the Blade on it I had ''Nick Johnson'' Forge for me yr's ago when BBF's was alive and cutting Out of O1 Steel to my Spec's 7 1/2'' Blade which is Sharp But the Blade Edge is Wavy and Needs some Grinding, it's 35mm Wide and 4 / 5 ish mm Thick 12 1/2 Overall Length.
The Guard has had the Blade Welded to it and the Handle has been Epoxied to it, it's Nearly a Full Tang and apart from the crap mentioned above it's a Beast of a Blade.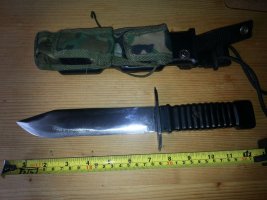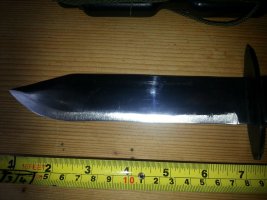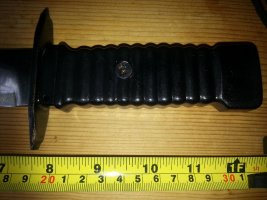 The 2nd Knife is a Locking Folder in a Bolo style shape with Saw Back and is 25Cm Overall with a Blade of 11 3/4Cm, 35mm Wide and 3 mm Thick.
The Handle is a Hard Rubber and has afew Chips / Cuts on it, But it's removed and can be pimped, it's Hardly been used and is Very sharp with No sign's of use on the Blade.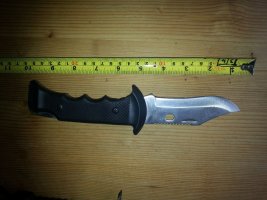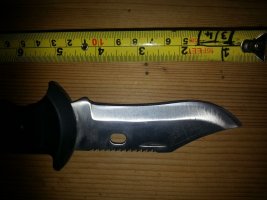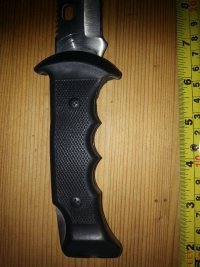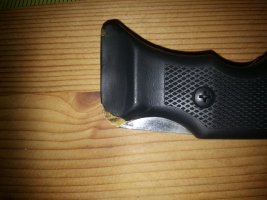 £80.00 for the 2 with Postage.
All Payments via PayPal
UK Buyer's Only
Over 18's
Cheer's
Last edited: