Everyone loves sporks....Right? Well love um or hate um I got an idea when cleaning mine after an outing. I am sure someone else has done this but it's new to me. Titianium spork for a bearing block, Hemlock spindle and Willow fireboard. I needed to use my winter glove from the pack as guessing the metal would heat up though felt nothing through the glove. Took only a few minutes to learn how to keep the spindle upright and spinning. As this was a spur of the moment thing I am on the front steps with light snow falling. Dang cold but hardly the woods. The burn-in was promising. It appears that a Ti spork makes for a very low friction bearing block.
Cut the V-groove. Mora knives work well for friction fire sets.
Ruffing up the business end of the spindle helps increase friction on the fireboard.
This is my first time using Hemlock on Willow and it worked rather well. Once I got the hand/spindle position on the Ti spork down right it really spun.
Blowing the paper bag into flames.
Into the snow bank with yea!
When it comes to the venerable Snow Peak titanium spork this changes everything!

With proof of concept done it's time to take this horse and pony show to the woods. The lows are expected to be around -4F with windchill maybe -16F. I don't know how cold it was but after the hike I couldn't feel my legs. LOL! This time I took the Oriental stainless soup spoon which fits inside my Ti MSR kettle hence why it's often packed. I had to remove my hat and a few layers plus a glove for greater dexterity. Darn that wind really sucked. I mean it literally sucked the life out of me in only a few hours. Two miles of hiking were included in this adventure. This trail is very busy at some times but I was the only person there. Wonder why?
Cold night for the deer.
Everything is frozen solid. I didn't pack a closed cell ground pad but one pro of very cold conditions is snow just rolls off clothing. I did a bunch of sitting and knelling in the snow. It was refreshing with the wind blasting my face.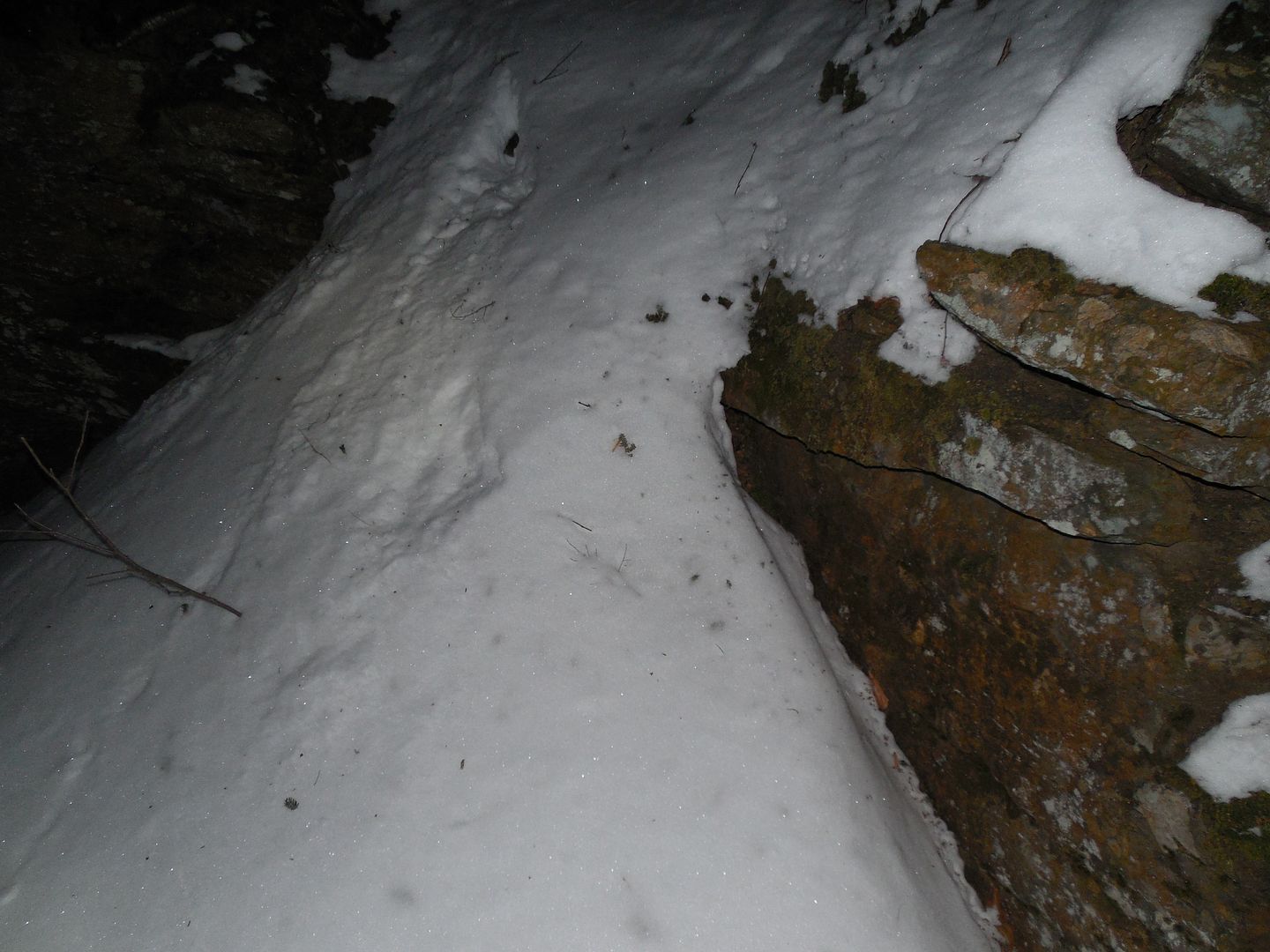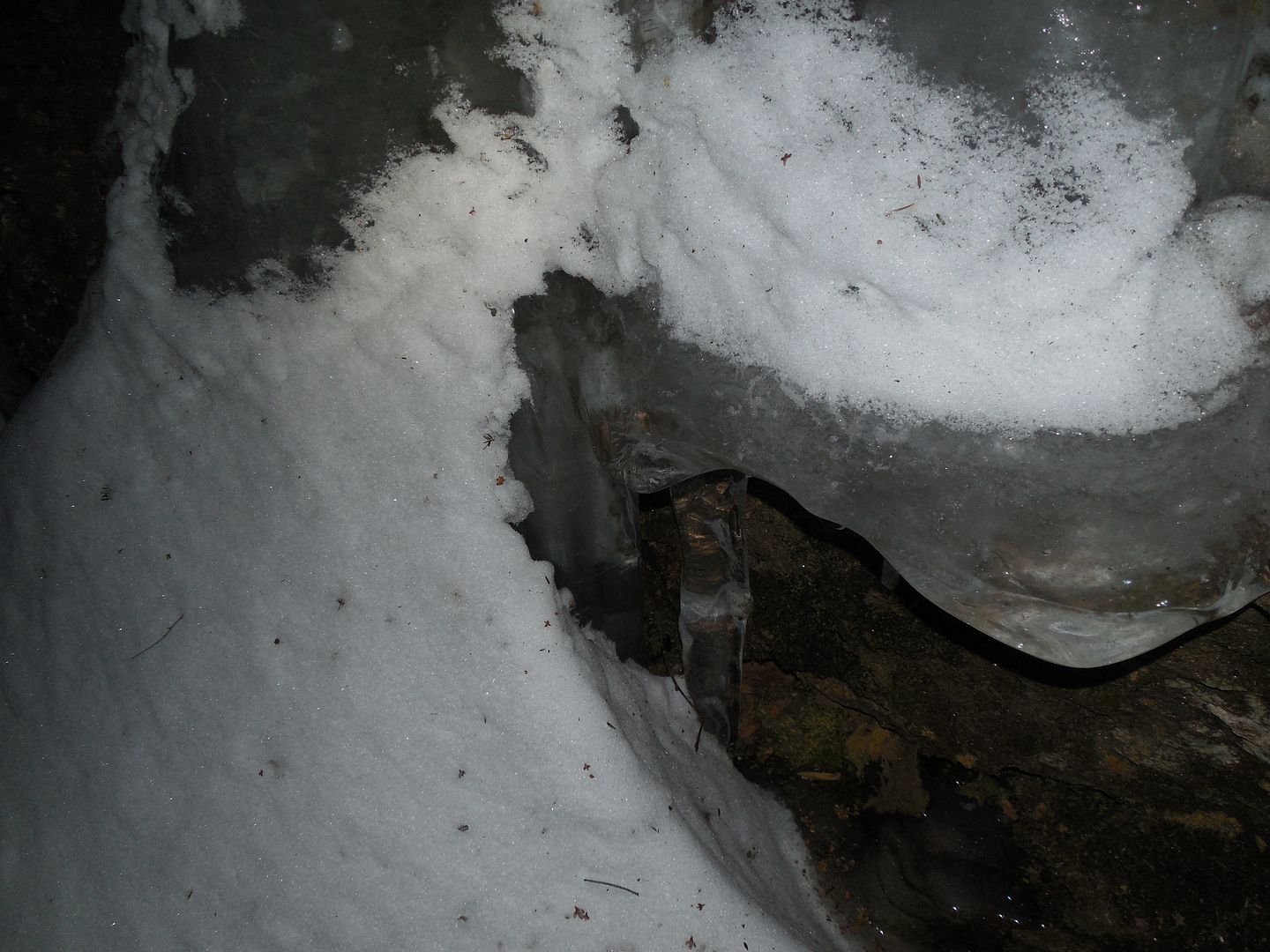 The Hemlock and Willow set from the first spork test. A spoon and tinder bundle which consisted of cotton wood bark and jute. Plus some dry leaves and bark found during the short hike. I tried to keep everything off the ground however keeping the blowing/kicked snow off my set wasn't easy. It was crystal cold clear.
Go!
And it was a no GO! The soup spoon made for a more problematic bearing block than the spork. I got some good smoke and false embers but just knew this set wasn't working like the night before. I did bring a small sycamore spindle and yucca fireboard. Sycamore on Yucca would be another new combo for me if it worked. I really wasn't looking forward to doing a burn-in then cutting the V-groove with my cold hands. Shielding the new set from the wind with my pack. Not sure if it helped but gotta try something.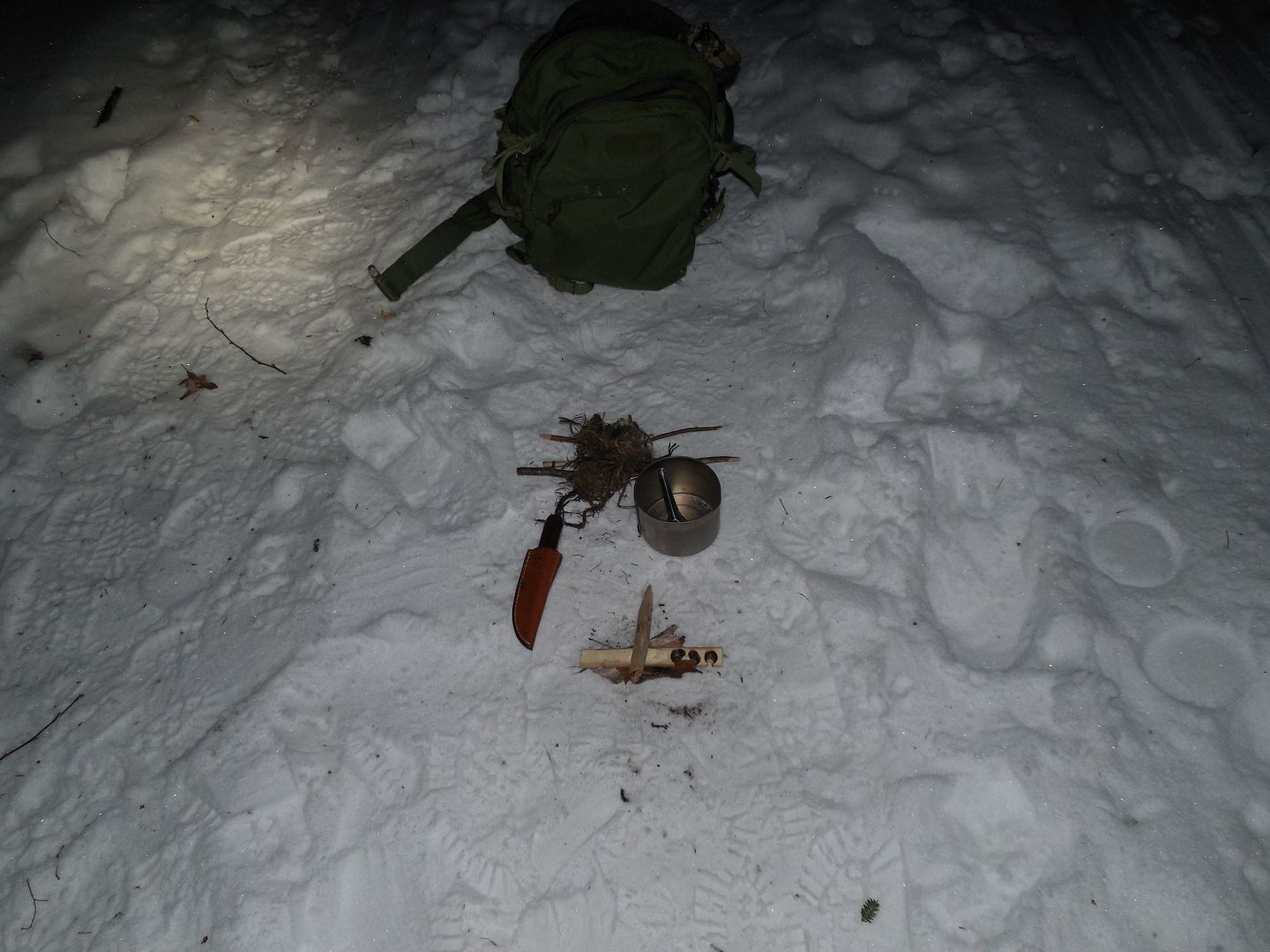 The divot for the burn-in.
Burn-in and V-groove cut. Sorry for the poor photos but didn't take multiples for the best shot. Just wanted to get it done and finish with my conditioning hike.
Got an ember. The mess kit spoon bearing block did the trick after all.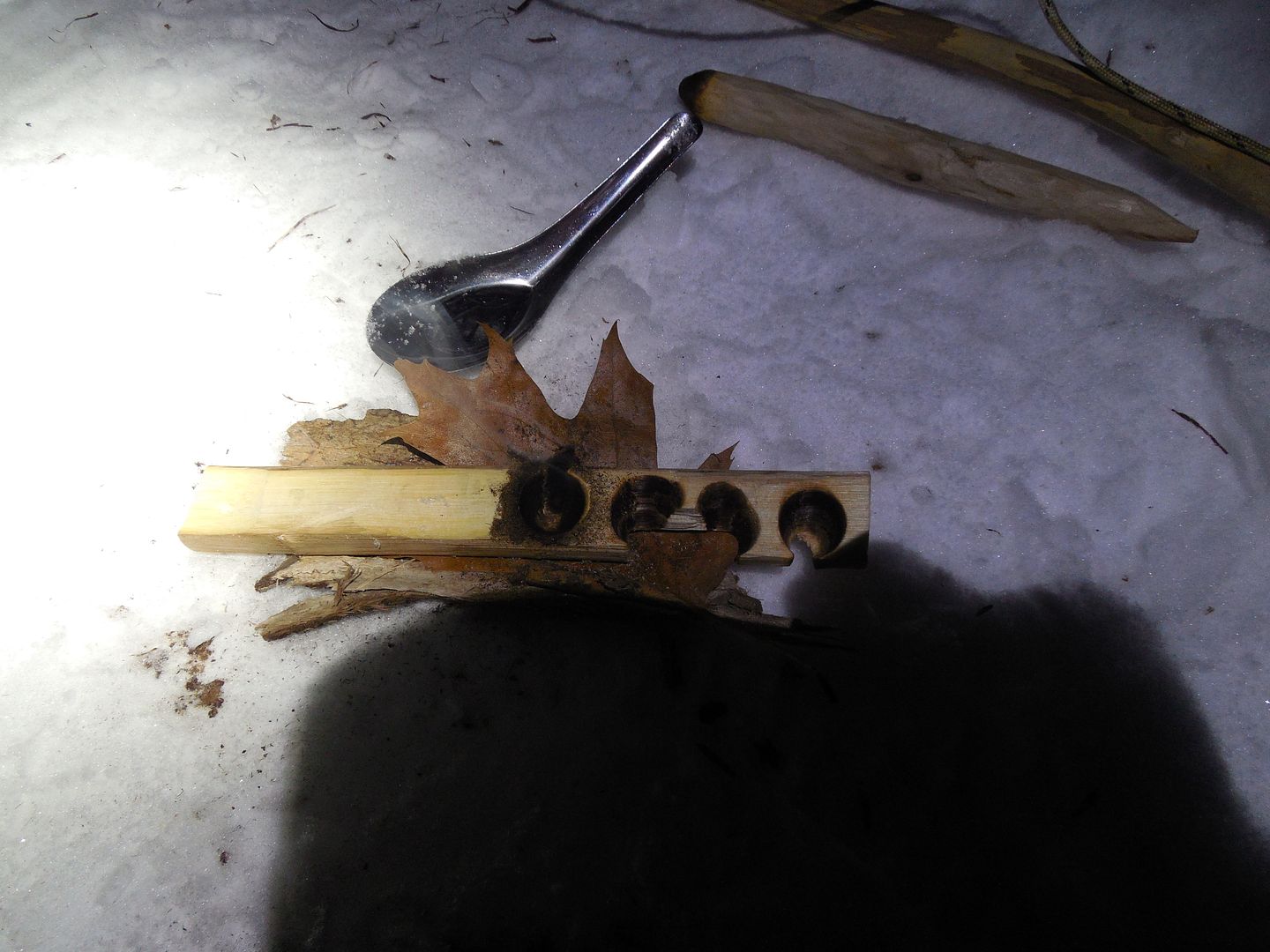 The tinder bundle with ember transferred.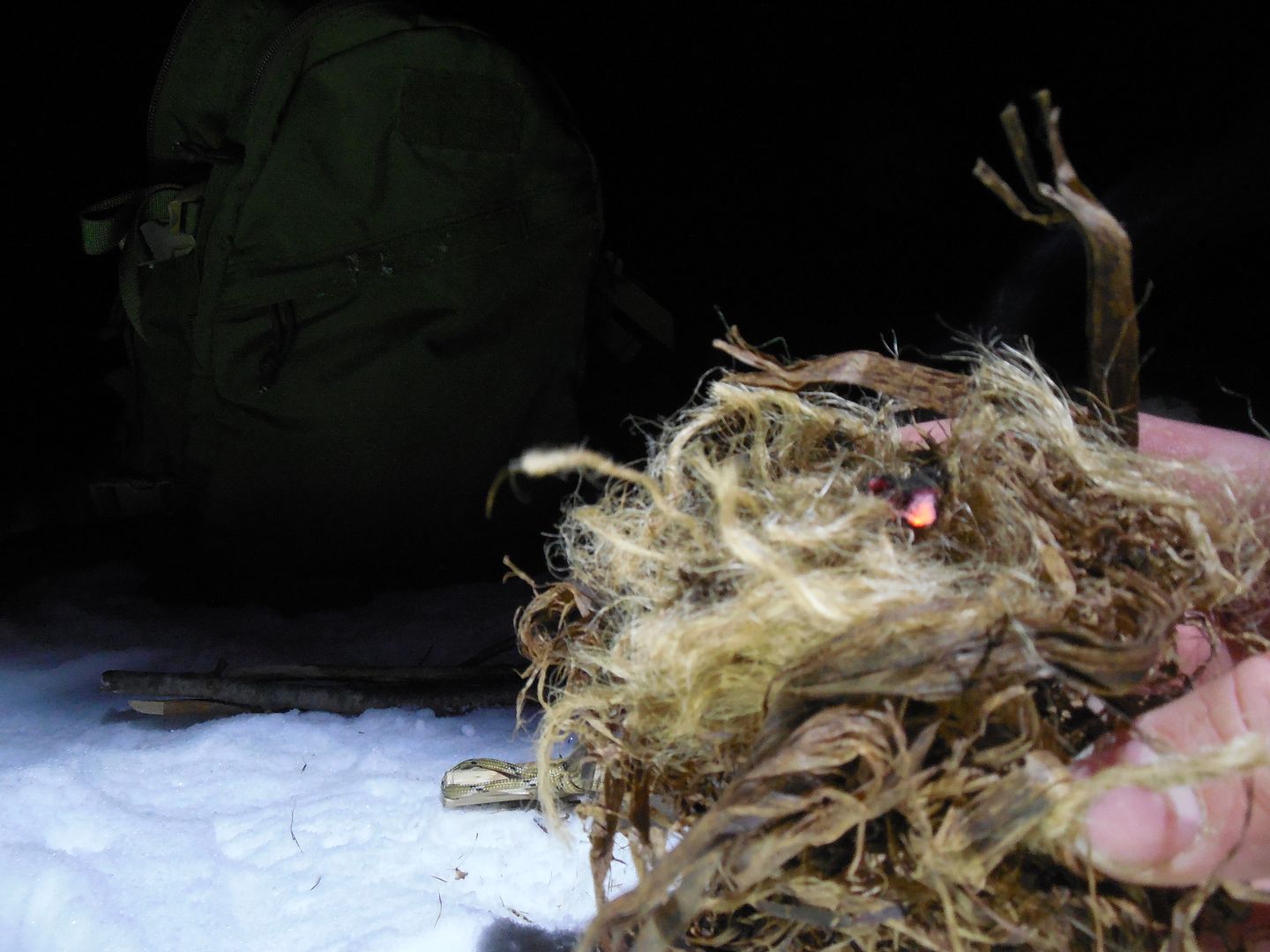 It was actually kinda hard to blow the tinder bundle into flames. Not sure why as kept the tinder bundle off the snow with sticks etc. Maybe some snow got in there? In any case it did ignite.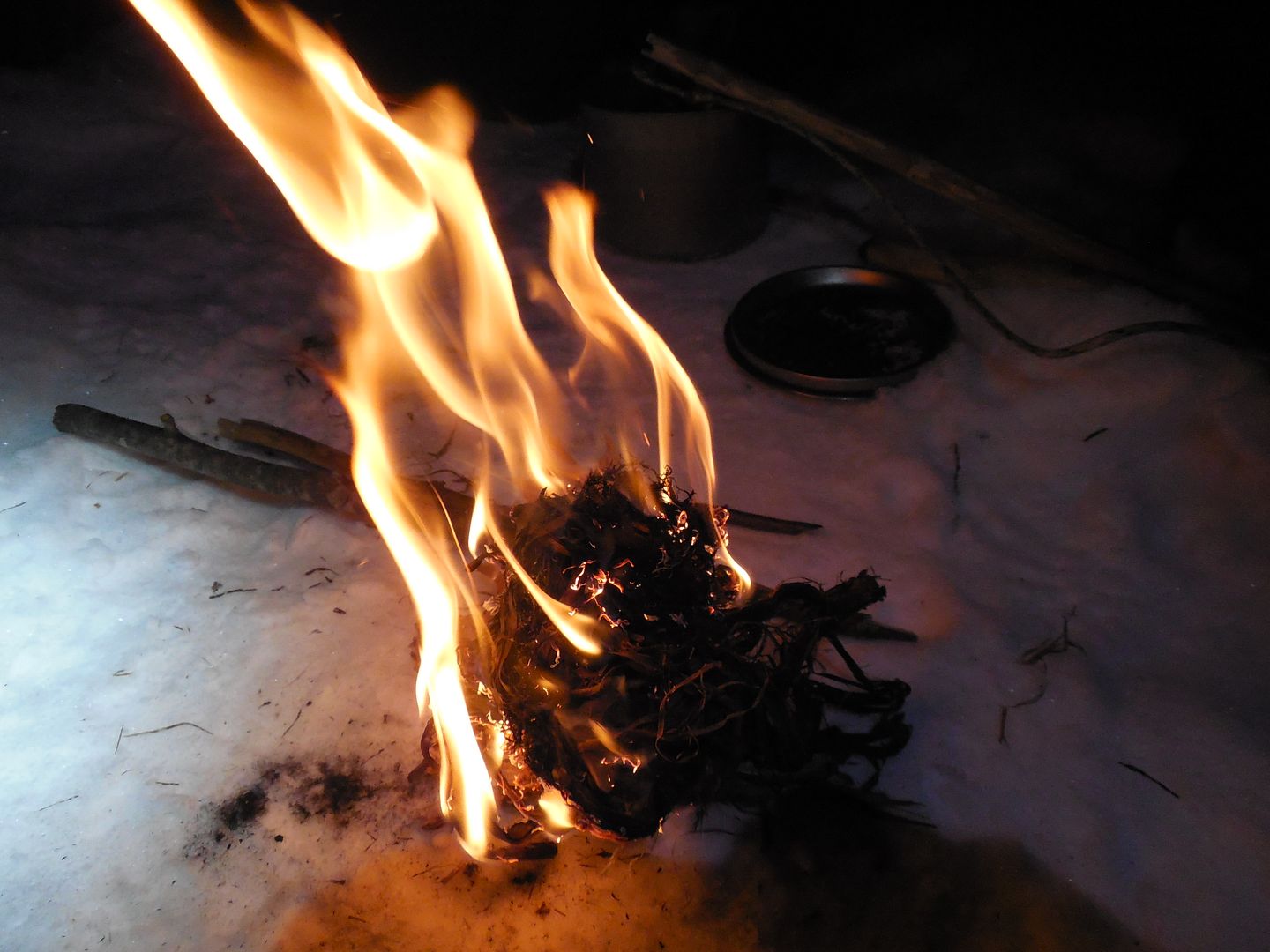 Some observations.
1. Multiple types of spoons make for ok bearing blocks.
2. Modern firestarting methods are really nice. LOL!
3. Stuff that works easily on the front porch is harder in the woods.
4. If anyone ever needs a fire don't wait till the hammer comes down after dark. The temperature difference and lack of light makes things harder. Yea it's obvious but still needs to be said.
Thanks for looking.