In the interests of thinning out the knives that I literally never use I've had a first cull of the kit box.
There will be a few more to come I'm sure but this one is a corker.
Shing Baby Bushy with a 3 1/4" blade in 3mm with beautifully figured yew scales and solid brass pins. I've never even stropped this one as I've only used it a few times. Its a superb little knife but just way too small for my huge paws but so pretty that I kept it anyway!
Very classy dark chestnut leather sheath by G4 of this parish with a great patina.
Very sharp, very strong blade and useful for all sorts of tasks for someone with smaller hands.
I'm offering this on the FM forum for a week. After that it will be going on general sales thread.
I'm looking for NOW SOLD STF.
Bank transfer or PayPal as you please.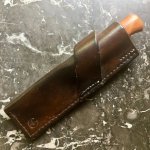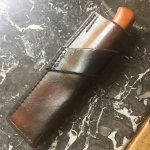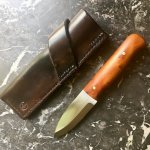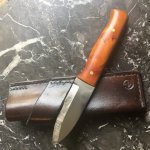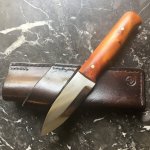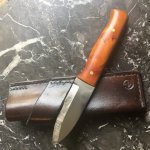 Last edited: