So the wait is finally over and it's here at last.
I opted for full tang construction ,natural micarta scales and mosaic pins with a fire steel holder on the sheath.
I have been waiting a while for this and during that time i have read various reviews about Allan's knives ,most if not all rave about his knives and now im going to add my voice to that chorus ,this is simply a most impressive little knife.
First impression was that I hadn't realised how small this was going to be ,second impression was how capable this "little" knife is.
Shown here against a WS micarta Woodlore and a (slightly modified) BRKT Northstar.
It's not fair to compare this little knife to the other "full size" knives but it's very capable and would make a great neck knife.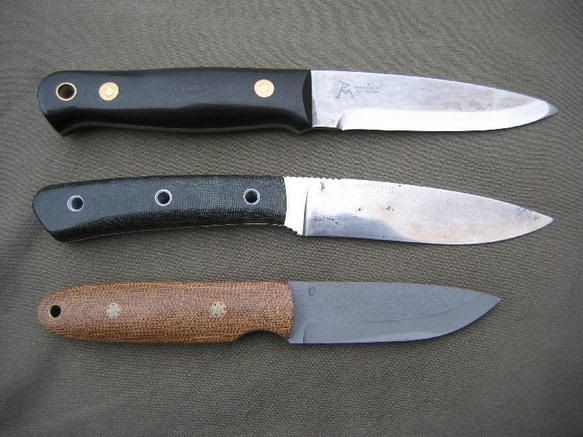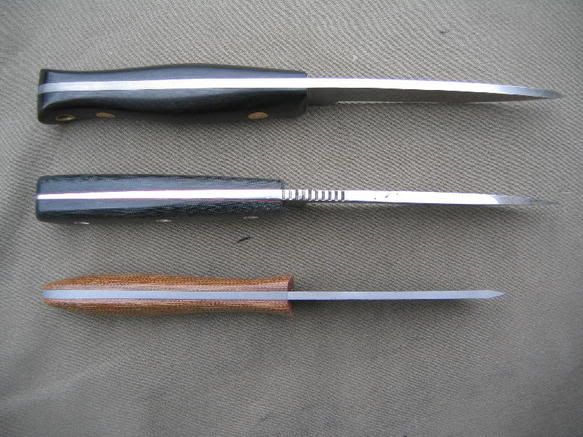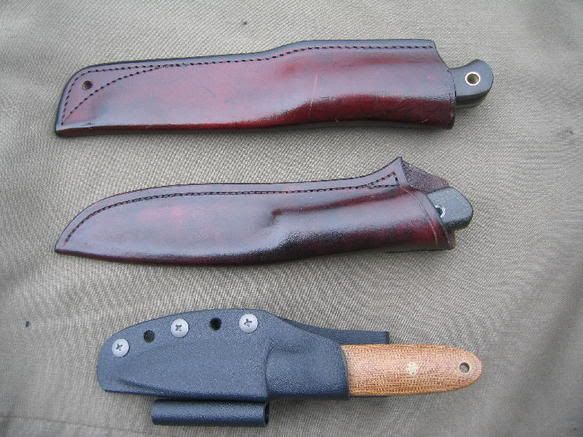 It is easily (and securely due to the finish on the scales ) held in any position.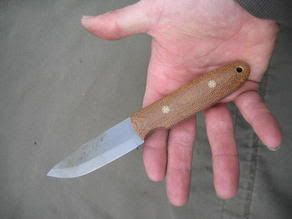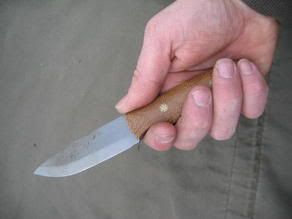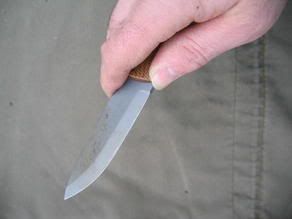 I have to admit that i wasn't sure what to expect from this knife ,the BRKT Northstar was a big disappointment to me and i did at one point during the wait for this knife wonder if it was "an American thing" and that they just interpret Bushcraft knives differently to us ,but Allan is spot on with this.
It arrived sharp but not shaving sharp but a few minutes with some 1200 wet and dry and a strop and it's a razor.
It passes all the usual tests ,feather sticks ,firesteel etc. with flying colour's.
Much better than the Northstar and on a par with the WS Woodlore.
It's very well put together with a nice even blade grind and the scales are a really nice fit (better assembled than my Northstar).
The micarta has a textured finish that is really grippy and comfortable (better grip than the polished micarta on my Woodlore ) ......

.....and is nicely profiled

The sheath is also impressive ,i have no previous experience with kydex and i am impressed at how securely it holds the knife.
The sheath is neat and because of the off set belt loop the knife is held away from your body and makes withdrawl very easy.

I will make a couple of leather sheath's for it im sure but the kydex does a great job.
I have another of Allan's knives arriving in a few days (Field Puukko) and im sure it will not be the last.
It was a pleasure dealing with Allan ,he was very patient with my barrage of questions and always answered my emails quickly and informatively.
He has a very down to earth and accommodating manner.
Now the long term testing begins and im looking forward to it.
rb