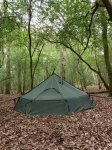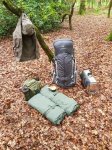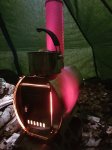 Just had three amazing days in the Savotta Howu 4 Man Tent in the woods..

There is very little information about these on the internet so I thought I would do a small review adding each time I take her out with pros and cons as I find them with more pictures.

On first impression this tents build quality is stunning, (looks like its built to last a lifetime, which is just as well, due to its cost...) This tent will definitely survive anything that mother nature can throw at it.
The canvas is made of a fabric which is waterproof (obviously) breathable, fire retardant and mildew resistant. Just thin enough to be able to see dancing shadows of the trees with the sunlight behind, which makes a stunning backdrop early morning and late evening, dark enough that you can sleep during the day, if you feel the need! I have a Feuerhand Baby Special 276 oil lamp and the material is thick enough that you cant see the light (at night) from outside the tent. So in essence a perfect balance.

You purchase the Savotta Howu 4 Man Tent in two sections, the first being the Wall Section which is just that, "half a tent" with heavy duty zips on either end, this can be used on it's own as a lean to or zipped together with its counterpart.

The second part is the Door Piece its a mirror image to the Wall Section, "half a tent with zips on either end" but these are covered by a rolled storm flap which are secured in place by several webbing tabs. This section containing a semi circular zipped door which can be opened one handed, just inside this entrance there are two hanging pieces of fabric interlocking which keep the heat and light trapped inside when the door is opened. A heavy duty metal flashing coveres a hole in the roof for the stove chimney. A magnet holds everything closed when no stove is in use.

Setup is a doddle. Lay everything out on the ground in the orientation you want according to wind, sunrise, sunset etc. Zip the two halves together, peg out the 8 guy lines loosely with heavy duty pegs, put the centre pole in place, erect the tent and tighten the guy ropes. There are 8 loops on the floor edging for smaller pegs. All in all I got it up and running, stove and chimney in place in under 15 minutes on my own, first attempt. Couldn't have been easier...

A clever design feature is that Savotta Howu Tent be pitched using the conventional centre pole, a tree trunk or hung from above leaving the centre inside of the tent free from clutter. A carabiner and webbing are both included to facilitate these setups. You can also open up the tent by undoing one or both of the zips and folding or rolling up the wall section in good or favorable conditions.
To get into the tent, you open the semi circular door, step inside over the edge with both feet, go onto one knee and duck your head under the roof section and "hobble" in under the interlocking canvas making the porch. It's a little bit awkward to start with, but after a couple of goes it's easy and the mechanics as to why it's designed like this becomes obvious...

This tent could be extended further with purchase of an additional section "if necessary" this section zips between the original two halves making it a six person tent. (for an extra two people sleeping) I didnt go for this option and I wouldn't want to be the one carrying the extra weight. However in reality the weight would be distributed between all members, and this is an excellent design feature.

Whilst it rained heavily for several hours, there were no leaks in the panel joins, the Storm Flaps covering the zips worked perfectly, however rain did enter through the horizontal stitching directly under the door! Due to its design, nobody sleeps in this area, so if it happened again, I cant see it being too much of a problem...

Just bare in mind this tent doesn't come with a floor! However it does come with large snow flaps on the floor 360° around the tent which aid in keeping the rain out if tucked into the tent.

The Savotta Hawu Centre Pole is just that "A Pole" Its adjustable from 70 cm to 184 cm via two metal adjustment pins (one at either end of the pole) attached to each other and the pole with string so they wont get lost. This pole is over engineered, heavy and expensive for what it is!

At the top of the tent (where the top the expensive Centre pole sits) you can open the edges of each tent section slightly to disperse heat and aid ventilation. You can open one side or the other or both depending on your needs and weather conditions.

On the inside of the tent on the roof there are 12 metal D-rings sewn into the fabric to act as hanging points for wet clothes lamps or other items, a handy addition.

There is plenty of room at sitting level for probably 6 people with all ther kit if using just as a shelter from the elements..

More than ample space for 3 Adults sleeping with ALL there kit, the stove up and running and a Large wood pile.

Easily enough room for 4 Adults with all there kit and No stove.

At a push you could probably add one Adult to the above numbers and it would just become cosy!

To be honest, for one or two people and a dog, in it's current guise, it's a palace...

The Savotta Howu Stove is made of Stainless Steel works perfectly and is a work of art which burns logs to ash, produces heat like nothing else I have ever used and keeps its shape even after several hot Cherry Red moments. The stove is built slightly different to other stoves in that the chimney is in the middle! However this allows two people to cook on each end. Although a "small" stove I managed to Cook a FULL English Breakfast for two with no issues, I had a frying pan on one end my überleben Kessel and a can of beans sitting on the other. The stove is big enough inside for me to stow the chimney, my oil lamp, kettle my fire kit and a small axe. So ALL my Heating and Lighting kit is in one place, oh and a pair of leather gloves, which you will need because the chimney edges are razor sharp...

I did notice that during the downpour on the second day when the Stove was Cherry Red that I got splashed every now and again with boiling hot rain as it exploded on the chimney! However this didnt happen when not red hot!

The only BIG downside that I could find is its total combined weight.

The Wall Section Weighs 3500g
Door Section Weighs 4500g
The Centre Pole Weighs 1400g
Stove Weighs 5400g
Chimney Weighs 1000g

I used my own pegs. Youll need 8 heavy duty and 8 lightweight pegs in total.

I carried well over my personal weight limit for over 2.5K, with a lot of cursing, but it was well worth it once setup.

This is definitely NOT Lightweight Camping!
However definitely a pleasurable experience...

I'll have to definitely re-evaluate what I'm taking before my next outing in a couple of weeks...
Last edited by a moderator: