I went down to the wood today expecting a bit of damage after the storm over the last few days but, thankfully, we seemed to have escaped most of it
.
The parachute over the fixed camp needed some attention so I re-pitched it. We decided to put a permanent camp in when we first started looking after the wood two years ago to make sure the rest of the wood remained pristine. I know it looks a bit 'clinical' but it stops other parts of the wood being damaged.
Here's the pitch after today: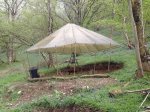 This was new one on me - we have a soakaway at the camp for foul water (excuse the colour
). The idea is that the water soaks through the sieve into the rubble pit underneath and any mess (food debris etc. gets caught and put in the bins). These beetles (
Pterostichus madidus?
I'm not good on my beetles!) had tried to go through the holes but failed. You'll be pleased to know that they were all alive!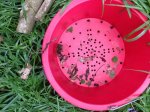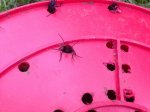 Then, the highlight of the day. I went to look for recent activity at an old badger set and this little fella poked his head out to see who was around. After all these years in the field this kind of thing still makes me feel really privileged