1. ITEM:

1 x Tanfoglio Gold Custom BB Race-Gun

2. CONDITION:

Used, but only had chance to use 5 times last summer at home.

Pristine condition other than a slight ding i just noticed on the base of the magazine. No idea how I managed that.

Picture added to show. Absolutely no effect on operation at all.

3. EXTRAS:
1 x Hawke Vantage 1x20 Red Dot 3 MOA

2 x Tubes i use for easier loading, filled with premium Webley ACCU-BB 4.5mm Copper Coated Lead BBs.
UPDATE: Range bag now also included with the sale as I don't need it for my new toys. Purchased new at the same time as this pistol.
4. LOCATION:
Buckingham


5. PRICE:
Total Price I paid for both items new last summer was £232.59

I would like £170.00 please

>>> Bank Holiday Bargain now
£155 incl Paypal

** Sensible offers always considered. **

Postage is also extra.

As its a very weighty package just under 2.5kg. So i have left the post method to your discretion

See last photo below for Royal Mail Quote.

All methods insure up to £100

Only Special Delivery insures above £100.

If anyone wished to collect, i also have a load of Umarex and Walther CO2's that I would throw in for free.

And some more tubes of BB's

Strictly Over 18's only.

If we have not traded before I will ask you to send me a photo of your ID.


6. DESCRIPTION:
An extemely well built,and Endorsed training replica of the Tanfoglio modified CZ75 as used by Eric Grauffel - 5 time IPSC world champion

Full details on pistol and sight here

https://www.pellpax.co.uk/airg…5-competition-4-5mm/17401

https://www.pellpax.co.uk/opti…ed-dot-weaver-mount/34510

All metal construction.

Most accurate and consistent BB Format pistol I have owned.

A solid stable gun with a good kick from the blowback action.
A proper handful that is satisfying to shoot.
It is supplied with the 1 x magazine it came with.
Field strippable too.

Colour i would say is sort of Titanium.

I have added the Hawke red dot which i purchased at the same time (as it has no open sights) and works really well with this pistol.

I have modified the weaver/picatinny rail with a lower profile rail to bring the sight closer to the pistol. All hardware threads have loctite blue. So will release with hand tools.

The original height rail will be included.

Currently Zeroed at approx 10m but I will have to remove the sight from the pistol for shipping.

I have had great fun attempting speed targets with this but i now have my eye on my first PCP set-up. So this needs to be sacrificed for the greater good.

It has seen only actually about 8 CO2's in Total.

( I was getting About 40 shots per co2)

Every 4th co2 saw pellgun oil.


7. PICTURES: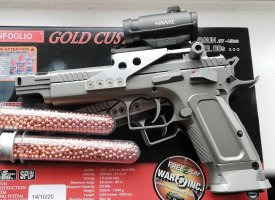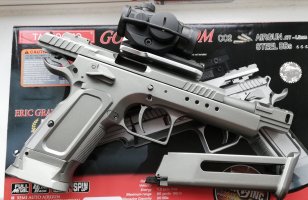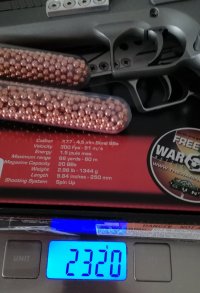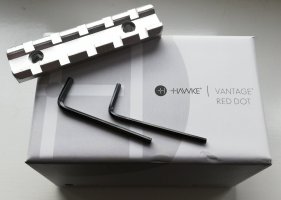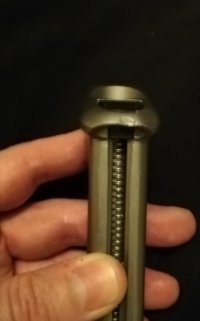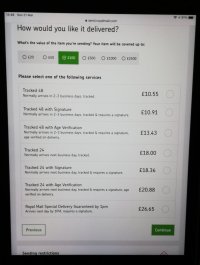 Last edited: