So Pumpkin Season is upon us - and for many of us that will mean just a waste of a food product - so my challenge to you is to take the Pumpkin and turn it into something tasty. After Halloween unsold pumpkins will just be going to waste and rotting away as discarded.
Get Creative.
As a starter - here is my effort.
American style T-H-I-C-K Pumpkin Flour Pancakes ( enhanced with cinnamon and some bitter chocolate nibs ) with Clotted cream , Blackberries, a sweetened compote of Yellow gage and a rose hip syrup reduction and topped off with a Fig!
I also roasted the Pumpkin seeds themselves and threw a few on -these straight from the pan, nice and toasted are amazing in themselves - if you do nothing else - ROAST THE SEEDS.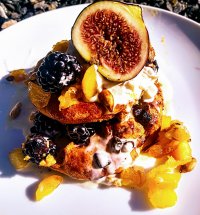 Last edited: