Jan 14, 2008
11,009
393
38
Friday evening saw me and i camp @butlins have a cheeky over nighter up my permission.
We drove up to give us more time there so i decided to use traditional materials. taking with me the Swedish rescue bag i recently got in a trade, wool blankets and a ginourmous tarp made for me by bilmop5 of this forum.
the kit pile as you can see the rescue bag is a monster its bigger than my pack!
this is the reflector i built last time i was up the woods in march hard to believe it was snow covered and freezing not 6 weeks ago
my fellow camper pete
one mahoosive tarp set up
then it was time to disassemble the reflector and clear the area of stinging nettles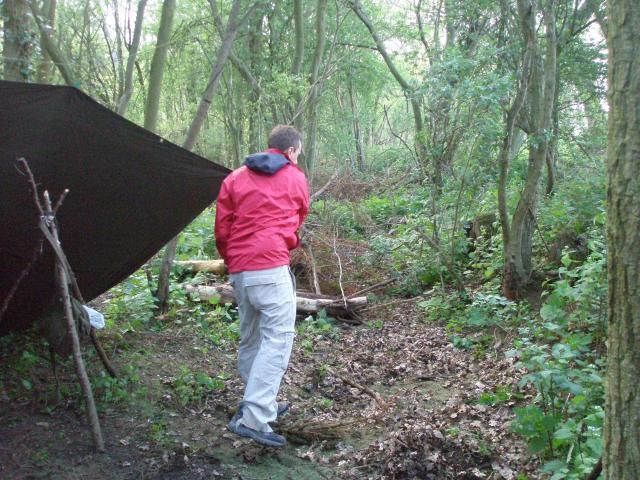 Pete processed some fire wood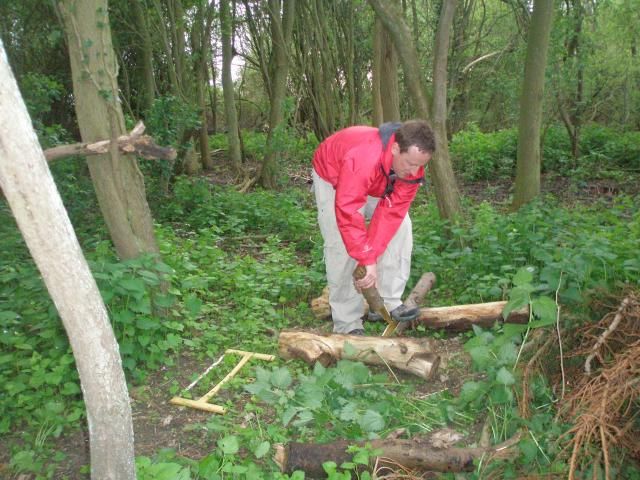 whilst i got the fire going and the kettle on
a view of the woods, lots of greenery and life bursting upwards
i did some fire wood processing
after a while of staring at the fire drinking tea and generally enjoying being in the woods it was grub time, so we rearranged the fire
but before we could start cooking my in laws dropped my folks dog who had been staying with the in laws off
i gathered some jack by the hedge to add to the evening meal
we put the minted lamb kebabs on to cook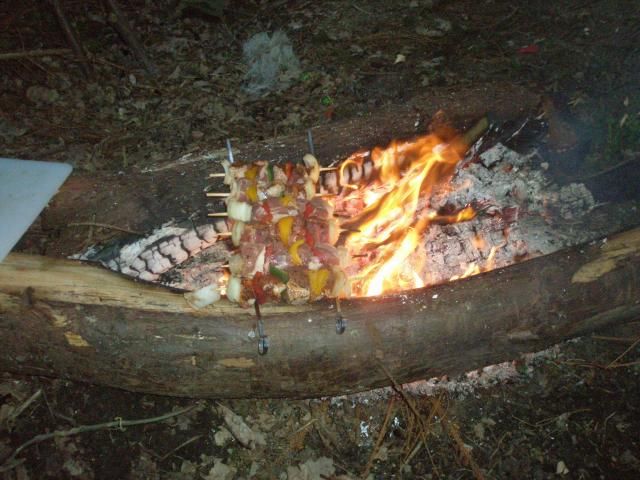 Chef pete did some interesting stuff with salami which susie the pooch found fascinating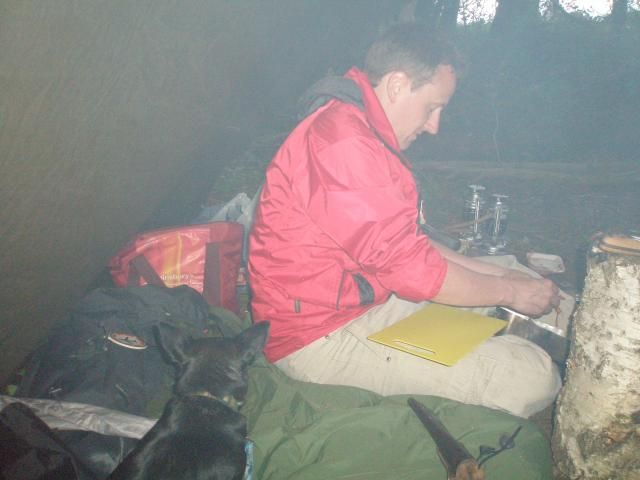 fried the salami and added the jack by the hedge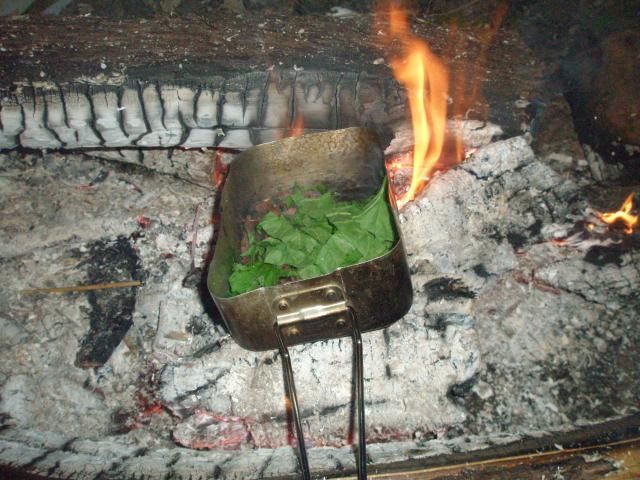 check the kebabs looking good so far
and pete added rice to the salami and jack by the hedge
our evening meal, minted lamb kebabs with rissotto rice with salami and jack by the hedge
and very tasty it was too, Even susie thought so
A while later my sister popped in to see pete
after my sister visited it was time to settle down with the bushcraft tv
i admit we need to work on our admin but its a happy campsite
The pooch seemed to enjoy the poncho i had packed for myself
after some bushcraft tv we bedded down for the night.
around 02:00 susie started growling and pete heard cars near where we had parked so he trundled off to investigate and scared the bejeesus out of a woman police officer who was on the search for a missing person and had convinced herself there was a body in the ditch next to the car, luckily there wasn't and the dog acted as a very good warning system or we wouldn't of known anything about it.
i woke up around 7am with the dog bundled up in the rescue bag with me happy as a happy thing
susie had an investigation of the fire
Pete was still entombed in his bivi bag
So i decided to have a bit more of a snooze waking at 9am
got the kettle going once more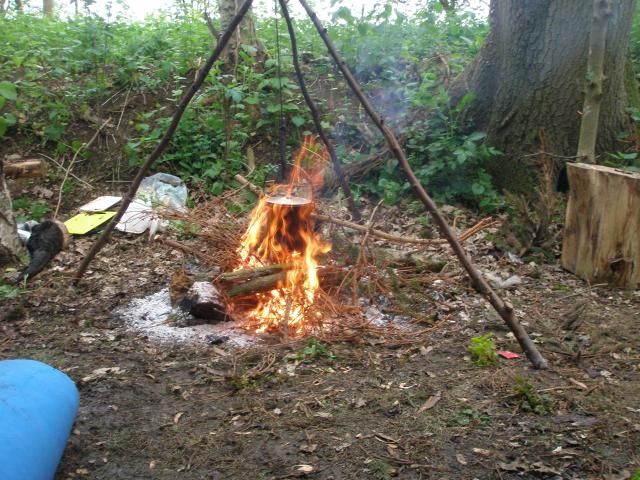 pete cleared away his kit
i did some of the net needle for dave bromley's build along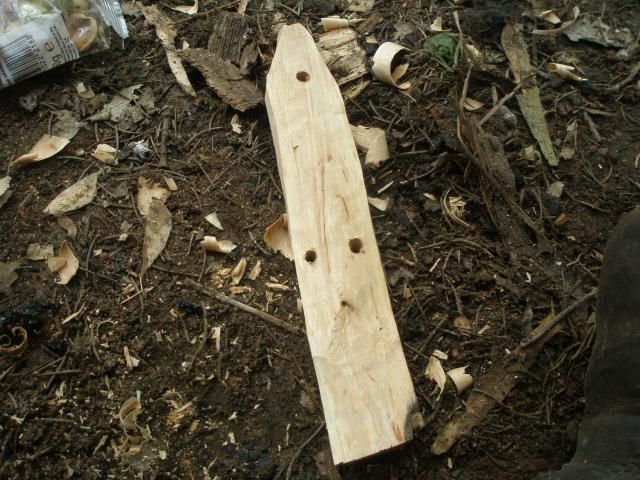 we cooked ourselves some breakfast-sausages!
served in a tortilla wrap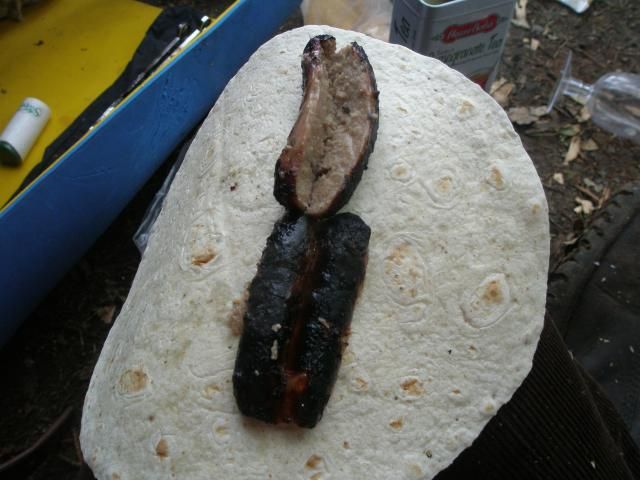 Susie enjoyed hers although she went without the tortilla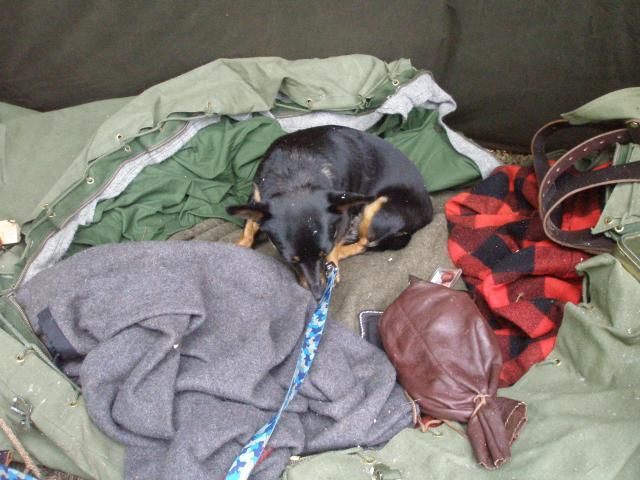 After breakfast we broke camp, extinguised the fire and headed home,
i was greeted by a nice big hug and the statement ooh you smell nice-cant complain when i reeked of woodsmoke and campfire now can i.
hope you have enjoyed the pics, one step closer to the boone challenge for me, i dont think the rescue bag will be coming, its a great bag and nice and warm but far far too heavy for carrying