Oct 7, 2006
21,890
1,387
63
I thought I would keep a record of my Covid-19 projects as I complete them
Project 1 - for work at Castell Henllys Iron Age fort... "homework" but Bushcrafty... "Make a net from natural fibres"
Due to the lack of opportunity to gather any more natural materials (lockdown limits my access!) I used tarred Brazilian Sisal balertwine, the same stuff I use to spin up ropes.
The floats are wood from our firewood pile and the sinkers are lead flashing. The net is about 4 meters long and over 2 meters deep and took somewhere between 800 and 1000 knots.
I used netting needles I made years ago. My first net of any size!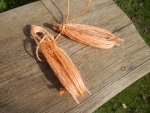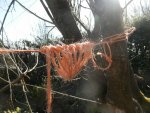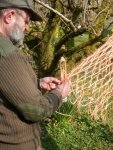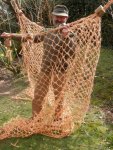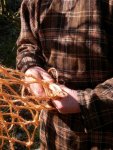 Project 2 - personal project
I like sewing and before lockdown I scored some very cheap but good quality 100% cotton herringbone twill Flecktarn fabric - it had been urtains for the Surplus stall on our indoor market but was clean and in excellent condition
Using thread, zips, velco and fittings I had in my "bits box" I produced this jacket that has belt loops so that it can be worn with or without a belt.
This took about half the fabric I had - total cost about £10.00