It's nearly Christmas so why not treat yourself to a beautiful new carving knife!
I didn't want to be selling this really but there just seems to be one thing after another going wrong at the moment so needs must.
I had this commissioned from Chris Grant as part of a matching set (MaChris & Minimac)
The knife is new but the sheath does have a few marks from storage.
Handle is Stabilised Spalted Boxwood.
I'm not 100% sure but I don't believe these are being made anymore, so if you're after one here's your chance!
£130 All in to your door Via RMSD. PP or BT is good.
Any questions or for more pics please drop me a PM
Over 18s only please.
UK sale only please
Info direct from Jon Macs page:
The MiniMaC is a scaled down version and designed for smaller carving work.
An ideal carver with a very comfortable ergonomic handle design.
The blade has a pin tang and is again made from 52100 bearing steel.
The fine tip allows for the carving of tight internal radii curves. And the tip is also fine enough for good quality chip carving.
The overall length is 7 3/4 inches.
Blade length is 3 1/4 inches.
And width at spine is just a smidge over 1/16 inch.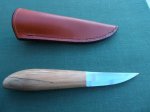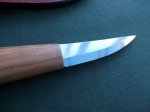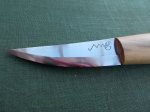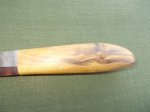 Thanks for looking!