I was waiting for a chap on ebay who makes lids for the crusader mug to put up the auction/sale thing for his mess tin lids but stumbled on a knackered old British issue large mess tin in my scrap metal stash. I knew the Dutch set was slightly smaller than the UK one and a test fit showed this to be true. The Ally mess tin was pretty far gone, it took a while even with power tools to remove the pitting and worst of the scratches then polish it up.
I used a normal wood work marking gauge to scratch a cutting line and attacked it with a hack saw. The belt sander leveled and smoothed the cut down to the scribed line. Wood blocks and a hide hammer splayed sides of the lid a little to give a looser fit. It just needs me to get some domed Ally rivets, I don't think I have any, to fix a folding D ring / handle to the top.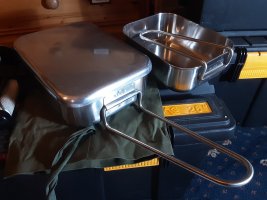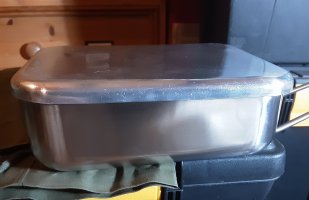 The lids a surprisingly good fit. I wouldn't have sacrificed a good tin to make it but I've a minty set and a private purchase set with the lid with the sliding handle so a odd, pretty much knackered one I can live with out, and it saves me at least a tenner.
I'll post a pic when the handles fitted.
ATB
Tom
Last edited: