( Taken from my SM )
Tomorrow is International Men's Day.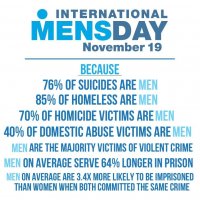 I try to post this every year to do my bit to raise awareness as much as I can, as its a subject that I'm passionate about.
I've lost a couple of Male friends to suicide and have at times in the past struggled myself with darker thoughts that I'm sure many of us do ( male and female ) - in silence and without feeling able to be able to ask for help.
Statistics on Suicide are quite simply harrowing.
https://media.samaritans.org/.../Suicide_Stats_England...
So before people start reaching for the 'Like' button to show solidarity I wonder if I can ask the following?? ,- message, text, ring , facetime - whatever - any of your male friends you've not seen for while just to say:- "
Hi! How you doing
" and check in with them.
Men as we all know , are not the best for communicating their feelings at the best of times, - never mind the worst of times.
Thank You.
TeeDee