As a few of you may know over the last few months I've been trying to lighten things up a little. To do this I've sold quite a lot of my kit and replaced it with items that weigh a little less.
One of the last items I still had to replace was my DPM Goretex Bivy. I sold mine on ebay a while ago and have been looking for a replacement since then. At one time I decided to go with the Alpkit Hunka XL but these seemed to be out of stock for ages (think they are back in stock now) so I kept looking. In the end I decided I wanted something lighter than the Hunka as this wasn't going to provide too much of a saving over my old Goretex bivy. I looked at the Ti Goat and MLD offerings but in the end decided I liked the look of the
Borah Gear
Bivy.
Whilst trying to find some reviews of the bivy I came across quite a few threads on the BPL forum and all of them were very positive. The owner of Borah Gear is a chap called John West who is quite active on the BPL forum. I wanted a few thing changing to the standard bivy so sent an email to John, he got back to me straight away and after a few emails I placed my order.
My bivy arrived last week, I haven't had chance to use it as yet so this is more of a first look than an actual review but here goes...
Full bivy:
First impressions of the Bivy are very good, it's exactly what I had in mind when I was emailing John, it weighs in at 212g including the stuff sack and packs down nice and small. Lighter options are available such as using Cuben fiber for the floor and M50 for the top but the cuben was more than I wanted to spend and John recommended the M90 for the UK climate due to it's breathability.
I got mine in the standard length which according to the website is comfortable for those up to 6'1" but I reckon it'd probably be ok for those a little bigger too. I wasn't sure which size girth to order as I didn't want there to be any risk of my down bag not being able to loft properly, in the end I asked for the standard girth with a couple of extra inches of material added so it's somewhere between a standard and a large. After putting my thermarest into the bivy and then getting in inside my -7 down bag I've realised I probably would have been fine with just a standard girth size but the extra gives me a little more room to play with so i'm happy with it.
To make it easier to get in and out of etc I opted for a side zip, as you can see below the zip runs along the bottom edge of the nano-see-um and then turns and runs down the side of the bag. All of the stitching appears to be spot on and the zipper runs nice and smoothly.
Side zip:
One of the reviews I found online showed a reduced Nano-ee-um section, I thought this would be useful for when under a tarp or in the trailstar so asked for something similar and am really happy with how it came out. Just above the centre of the nano-see-um section is a small grosgrain loop to be used to keep the netting away from your face.
Reduced Nanon-see-um section:
All in all I'm very happy with the bivy and can't wait to get out and use it. It's exactly what I wanted and looks to be very well made. In addition to this the service I received from John was fantastic, all my emails were replied to very quickly and he offered lots of advice when I wasn't quite sure what size/material to go for, on top of this my bivy arrived approx three weeks after I placed my order, which includes it being made to order and shipped from the US. On top of this at the time I ordered my bivy all the mods etc were done for free, I think this was a special he had on at the time but I think it might still be running.
No connections etc to Borah Gear, just a very happy customer, I'll update here once I've had chance to use the it.
Hope this has been of some interest!
Matt
Full spec:
Silnylon floor
M90 top
Side zip (RHS)
Standard length
Standard girth plus - I wasn't sure which size to go for so John suggested adding a few extra inches to the standard size but not quite as much as the larger size
Stake loops (Not sure i'll use these but thought I would add them anyway)
Smaller Nano-see-um section
Weight:
Uncompressed size: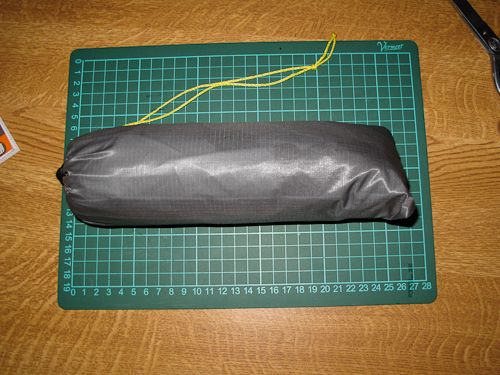 Full size thermarest for size comparison:
Stitching detail:
Stake loop detail: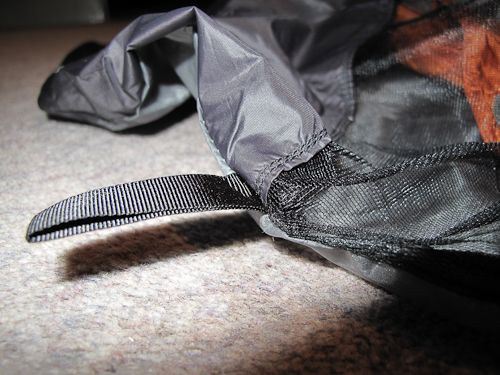 Stake loop detail:
Nano-see-um pull: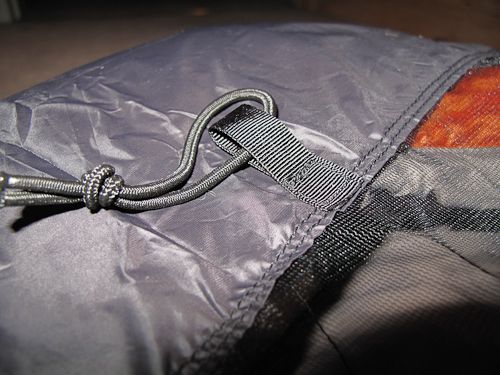 Zip detail: