Updated on page 3
Hi all, recently took some pics of my personal first aid kit and thought I'd show them for those that are interested in such things
Its very small and lightweight, easily fitted in a pocket. I do have bigger kits but this one gets used most as its the one I end up carrying most.
The contents are based on my own personal experience of what I've needed to treat myself, Its not intended for treating others but does get used in that capacity if nothing else is available.
Mr Bump cohesive bandage.
Flat, wide roll of metolius branded climbers finger tape (zinc oxide).
Roll of Duck brand duct tape.
Victorinox classic: scissors, blade, tweezers, tooth pick, nail file etc.
with safety pin.
Povidone iodine in dropper/application bottle.
Friars' balsam (tincture of benzoin) in dropper/application bottle.
10 tablets of ibuprofen 200mg
10 tablets of paracetamol 500mg
5 Caffeine/dextrose pills.
zip lock bag containing; 4 savlon (cetrimide) wipes, 4 povidone iodine swabs, 6 ispropyl alcohol swabs.
zip lock bag containg; 1 pack of 5 steri strips, 2 5cmx5xcm melolin pads,
2 elestoplast cut to fit dressing strips, 3 waterproof elastoplasts, 1 large elastoplast dressing.
Blister kit; 1 large strip of moleskin, 3 large compeed dressings, 2 medium compeed dressings.
2 packs of 5 gauze swabs.
4.5" by 7" Aloksak.
Its frequently accompanied by this kit; This is a back up to other kit carried so isn't my only fire kit or head torch carried.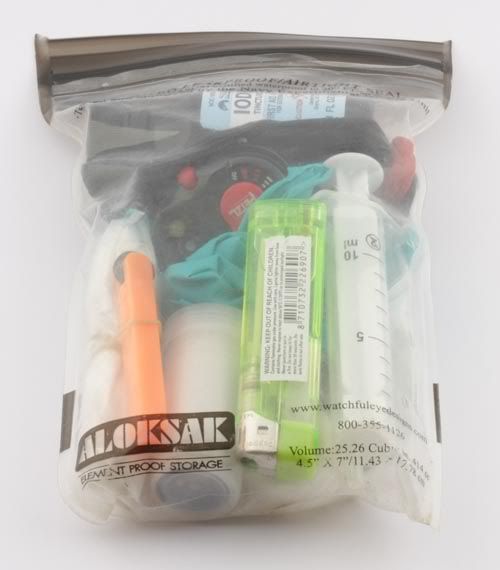 Tincture of Iodine in plastic cohesion dropper style bottle.
Petzl e+lite.
10ml irrigation syringe.
4 1/2" by 7" Aloksak.
1 pair nitrile rubber gloves.
Nalgene vial containg small repair kit: Tenacious tape, safety pins, needles and strong polyester thread.
1 roll of un-waxed dental floss and 2 sets of spare e+lite batteries.
1 pair of extended wear contact lenses.
Spark lite firestarter and tinder (vaseline soaked cotton balls)
Butane lighter with adjustable flame.
All comments and criticisms welcome
Updated on page 3
Last edited: