Last year I had no luck at all, when it comes to the elk/moose hunt. Either the wrong animal or it took of in the wrong direction. For the first time since I started, I didn't get to shoot. Ah, well...
So, along comes 2020. What could go wrong, really...
Well, from a hunting perspective it wasn't all that bad as it would turn out.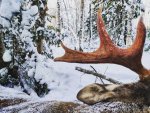 Fun, cold and quite messy....or as our dog handler drily put it "Moose hunting is much like parenthood. An instants joy, followed by 18 years of hard work"
Greger
Last edited: