Coote 2 x 72 inch belt grinder for sale
£600
- Collection only but I am willing to discuss meeting you part way depending on where you are.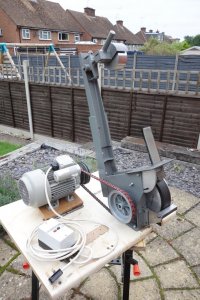 Just noticed, I didn't fit the screws that hold the knife rest for the contact wheel in these pictures. I do have them!
Features and included:
10 inch rubber contact wheel
9 inch Coote aluminium sanding disk attachment
2-off 2x9 inch ceramic flat platens, different edge radii for large or small plunge cuts
Coote knife maker's rest for the wheel
1.5kW Rotor NL motor with 24mm shaft (1ph, 1430rpm, IP55)
3-4-5 aluminium step pulley shrunk fit to motor shaft
6-5-4 aluminium step pulley with 5/8" bore mounted to grinder
Power Twist adjustable V-belt
Can be tilted for access to wheel or platen
Coote grinders have been built in the USA since 1967 and are used in industry as much as knife making. They are very solidly made with very little that can go wrong.
Heavy Duty, Precision Machined 2 x 72 & 2 x 48 Belt Grinders. Perfect for knife making and other industrial work. High quality made in the USA since 1967.

cootebeltgrinder.com
I put over £850 into this set up and it has been lightly used for what it is. I am selling because I no longer have space for it. There are occasional posts about Cootes over on Blade Forums and I don't think I have ever read anything negative about them. Most makers there who have one will keep it if they have the space to do so.
With this motor and pulley set I get belt speeds of 1872, 2995, and 4680 sfpm. The last is well up there to properly utilize the benefits of ceramic abrasive belts, and a 36 grit on this will really hog off steel.
I originally had a "cheap" £100 Machine Mart motor which soon started jumping around, possibly bad bearings. The motor fitted now has been very solid, but was pushing three times the price. Should have LOTS of life left in it!
The 9-inch disk is nice, but can be removed if you find it in the way. One thing to know, being US made, all the fastenings are Imperial and a 1/4" hex key is needed to adjust the tilt. Another is that the 10-inch wheel will sit really close to a bench top, so a spacer block is needed, or the wheel needs to be hung over space. I did both by mounting to a slab of counter top and cutting relief. You can have the whole lot mounted to the counter...ready to grind.
Best regards
Chris