Over 18s only.
1. SVORD Peasant folder. Don't think I need to go into a lot of detail. The usual excellent blade with a good edge. Cord added by me for safety which locks it up tight if you wind it around the scales before gripping it.
Light redwood coloured scales & brass fittings. Condition excellent. £30+ new. £SOLD stc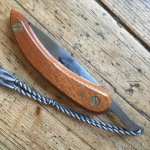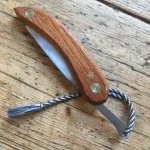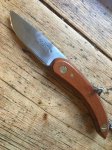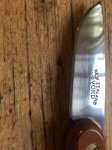 2. SVORD Peasant Kit to make your own.
Includes blade, Brass stop pin, Brass screws and Bog oak scale blanks. £SOLD stc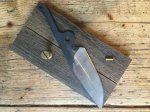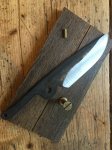 3. SVORD Peasant part kit.
Includes blade and Yew ( I think ) scale blanks but no screws or pins. £SOLD stc
Please note that you won't get the pins in the picture with this one. If you're the first to buy you can swap the scales over with the bog oak ones above.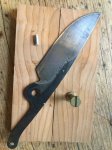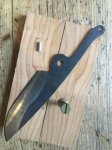 Last edited: