A long time ago I picked up a pretty much unused a Lichfield Combat 1 tent for a fiver on a carboot with the intention of letting the sons use it rather than them liberate my more modern stuff. However further finds of better tents meant it was instantly redundant so its languished in a wardrobe since bought. Recently I've been digging out kit to get rid of and I thought I may get a tenner for it. My usual inertia meant it was still there when I needed some PU nylon to make a lightweight footprint for my shiny new DD mesh A frame tent. I sniffed around ebay etc and with postage just the material with postage would havecost me threetimes what the whole tent cost.
Big Monster of this parish was kind enough to offer to machine sew the hems of the foot print for me so I've posted him a large section of the fly. This still leaves me with large pieces of the fly to make stuff sacks or small sit mats etc.
I've just finished deconstructing the rest of the tent and here's what I've got to work with.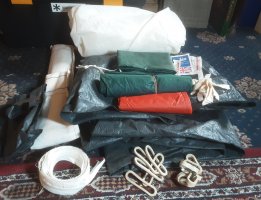 A large piece of thick white viscose from the tent inner. Not decided what to make from that yet.
2 heavy duty tent poles and ridge pole. I'll make a pair of awning poles with them, I've a decent pipe cutter and shock cord for that if I make them a certain length I'll be able to use them with the Mesh A frame when not using a ridge line. The same with the Mk 2 backwoods bungalow and saves me cutting poles when weights not a issue.
A bunch of pegs in a strong pouch
A long OPTI zip
12 strong rubber peg tensioning rubber bands.
A large stuff sack
A triangle of bright orange PU nylon I will back with some of the spare OG PU nylon fly to make a signal panel/ sit mat / table cloth / brash bag. I've some big brass eyelets but could recycle the backed eyelets that the poles went through the inner and fly.
Most usefull of all is the heavy duty rip stop bath tub ground sheet that I carefully unpicked from the zip and viscose inner tent. I could use it as is but it would benefit from a little work, adding a tape to the edge and some thick rubber uprights to help the sides stand up with hard points at the top to guy out to the pegs, there's already hard points at the bottom stitched into the material. It's a little large and heavy for one but for two under the 4 x 4 m basha or for a kitchen area in a bigger camp it will be just the job. I've a bought lightweight bathtub ground sheet for when I'm on my own and have to carry everything myself anyway.
So if you have a old tent that you'll never use again or can get one cheap it may be worth recycling the parts, it just takes a little time. A quick-unpick speeds up the process and prevents wrecking the fabric and wrapping some tape around your hand sticky side out or using a hoover with a narrow head attachment speeds up removing the little bits of thread that are left over from the quick- unpick. Picking them out by hand is a pain.
ATB
Tom