Despite what the forecast predicted the local weather sucks at the moment so photo mission on hold till sunlight returns. Still lots to do and experiment with so it should be a while before I degenerate into Instagram levels of insanity cutting the labels in half on chocolate bars to spell rude words.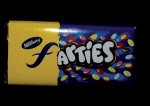 Anyhow... back to this idea I had...
Was watching a scifi flick called Enders Game last night and towards the end the "hero" grabs a survival kit and I thought Oooh nice looking haversack. Ten minutes of mucking about with freeze frame later to no avail tried a Google longshot and behold one of them had been auctioned off along with other memorabilia from the movie. More photos from different angles can be found at
Propstore Auction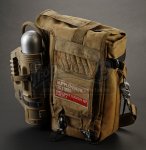 Supplemental Oxygen is of course seldom needed for Earthly bushcrafting but in our varying ways we do carry similar sized items such as water bottles, thermos flasks & swiss volcano stoves. My original sketch was as indecipherable as a doctors signature so had a stab at some photoshopping, it's not much better and the scale is not quite right but hopefully you get where I'm going. Keeps the bag contents clean and less risk of a leaky bottle wreaking havoc with contents.
Plus there's nothing more annoying about a haversack than when you pull the water bottle out all the contents slide sideways to fill the void.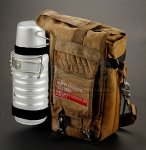 While you are here does anybody know where to find the carabina/hook buckle thingys used on the shoulder strap and flap closure? Ebay drew a blank so far, I'm guessing military / aerospace possibly parachute related.