Potential house move this year and so being brutal with my collection.
Buyers to collect - or arrange for someone else to collect - as my job means I struggle to get to a post office/courier drop off.
I am North Glasgow area. If you're buying a lot, I can deliver within 15 miles of Glasgow centre.
Or, sensible offer for the lot.
Hope that's ok.
All in good condition unless otherwise stated.
Nature
The Birds of Britain and Europe - £3
Collins Pocket Guide to Wild Flowers (1973) - £3
Off Piste!
Runner's World Guide to Adventure Racing, Ian Adamson (2004) - £5
Adventure Racing - A Multisport Guide, Jacques Marais (2004) - £5
RGS Expedition Handbook, ed Shane Winser (2004) - £15
Military
Sniper One-on-One, Adrian Gilbert (1994) - £2
Survival, ed Len Cacutt (1993) - £10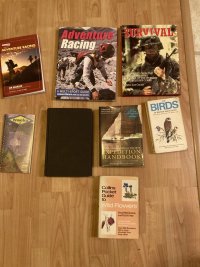 Last edited: