Jan 14, 2008
10,902
265
38
I've been working a few hides I was gifted by a friend out of her stash.
After getting them to the final smoking stage I've been unable to get to the woods to smoke them but was eager to get them to a workable stage.
With a bit of head scratching i jerry rigged a smoke house in my back garden.
3 Bamboo canes, a small BBQ and a 4x 3.5 DD Tarp later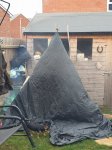 as you can see the dog was curious.
i tended the smoke house for 4 hours all the time awaiting firefighters to arrive (lucikly they didn't)
think they came out alright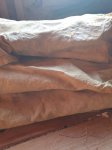 Now for some serious designing before plucking up the nerve to cut all this hard work up.....