M.A.B (Mad About Bushcraft)
As some of you know, I do like things to be "right". Now I have some good knives. In fact I have some great knives. Sadly, I don't have "the" knife.
However, I have been chatting recently with Stu Mitchell and after batting designs around for a good long time, we have come up with a design that, in my head, will equate to the perfect Bushcraft knife.
Now for the design. Well, as you know, I have the odd axe (or ten
) so this is never going to be a "hacking" or "batoning" knife.
Stu suggested a "blog" on the knife making process....sounds like a great idea to me. So, with his (and your) permission, we'll do just that!
Heres a few "sound bites" from the early exchanges - (Stu's comments in Blue - me in black)
You say you find 4mm too thick.... Do you think that would be the case if we were to go witha full flat grind... I would, without doubt, go with a full grind.... I just don't see a "chunky" Scandi grind suiting those slimline designs....

I think a 4 1/2", slimline blade (the blade you have designed), full flat grind with the slightest of secondary bevel, will give you the "surgical" field knife you are after!
"Long, thin, a centre spear point for boring and, for me, most importantly, a Scandy grind. I know others love full flat, but the secondary bevel puts me right off to be honest and my utter loathing for convex rules that out too."
As for the handle, desert iron wood and nickel silver sounds spot on to me.
First up is a design I came up with today.... Based on, and utilising, most of the ideas in your own drawings....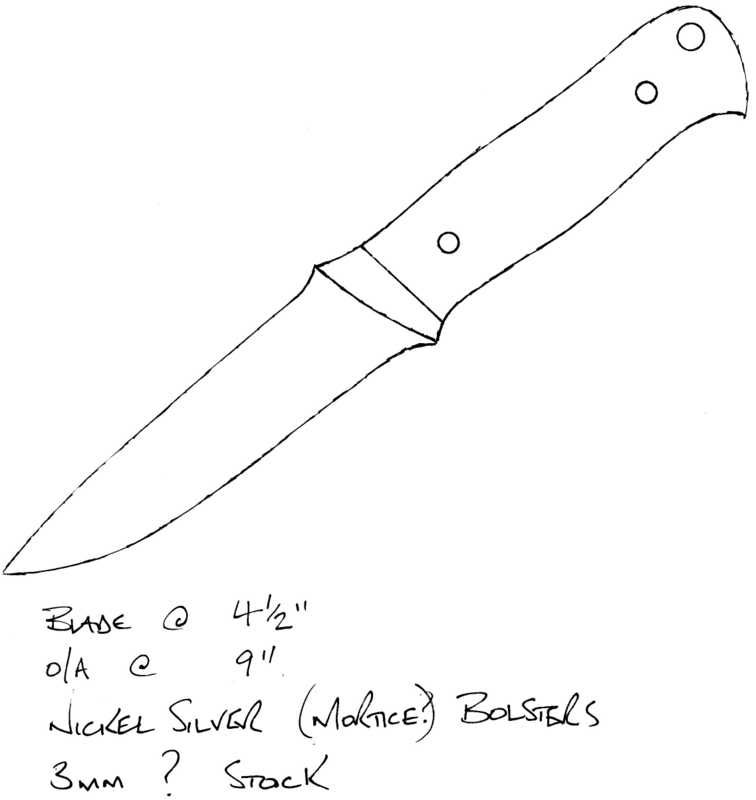 Red