1. ITEM:
Jack wolfskin Winter Jacket
CA 58735
03-3944-2331
UK Large
Colour - Midnight
2. CONDITION:
Worn literally once for a few hours walk.
Immaculate.
I would consider it "As New" Condition
3. EXTRAS:
None
4. LOCATION:
Buckingham
5. PRICE:
Purchased last year In the sales for £195.00
I would like £78 incl RMSD to UK & PP
Sensible offers always considered.
No trades on this thanks.
6. DESCRIPTION:
Saved up and treated myself to a Fjallraven winter coat this xmas.
So this has become surplus to requirements.
I bought it with A couple other JW garments last winter in a january sales binge.
Can't remember the style name but have included the numbers above.
Other than one cosy walk it never made it onto rotation as i kept favouring my longer one.
A very well specced technical coat.
Pockets:
2 x Front with stormsealed zips.
1 x internal.
Material:
Hardwearing outer shell with Texapore membrane.
Windproof / Waterproof / Breathable
Drawstring hem.
insulation:
Warm Microguard fill.
Hood:
Texapore / Insulated / fully adjustable / removable.
Measurements Approx.
Pit to Pit = 23"
Pit to Cuff = 23"
Pit to Hem = 19-20" (dropped rear hem)
I am 6'1" 40" chest 34" waist.
Fits me superbly with or without a mid layer. Good sleeve length.
Rear hem covers me bum.
I have a long length version i wear to work which it has kept me warm and dry in more than one heavy downpour.
I am a big fan of the JW brand generally.
7. PICTURES: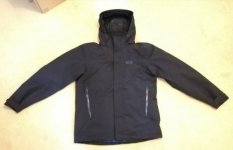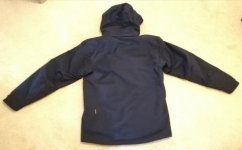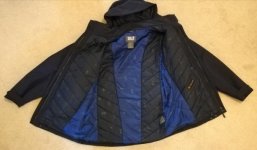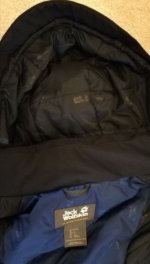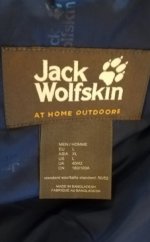 Last edited: